Democrats Must Compromise on Trump Budget Demands, Mulvaney Says
By
Budget director links talks to avoiding government shutdown

Spending priorities will include border wall, boosting defense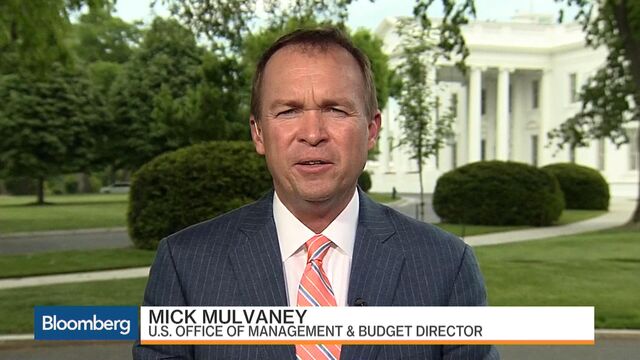 Democrats will need to agree to fund some of President Donald Trump's key projects, including a wall at the U.S.-Mexico border, if they want to reach a deal to keep the government running beyond the end of the month, the White House budget director said Thursday.
The circumstances are "ripe for some type of negotiated agreement that gives the president some of his priorities and Democrats some of their priorities," Mick Mulvaney, the director of the Office of Management and Budget, said at an event in Washington sponsored by the Institute of International Finance.
The president's priorities "won't surprise anybody," he said, and will include a boost in defense spending as well as funding to begin work on the border wall and for more immigration enforcement agents.
It's up to the Democrats, though, to reach out to the White House to make a deal, Mulvaney said. 
"This is the first real test of whether or not the Democrats, specifically in the Senate, are interested in negotiating, interested in compromising," he said. "If they're watching, call us. We're ready to talk about this."
Democrats responded harshly to Mulvaney's suggestion that they get in touch with the White House, noting that talks with Republicans on Capitol Hill are ongoing and that some members of the GOP don't want the White House to interfere.
'Heavy Hand'
"Everything had been moving smoothly until the administration moved in with a heavy hand," said Matt House, spokesman for Senate Minority Leader Chuck Schumer of New York. Referring specifically to the administration's demand that its project at the border must be funded, he added: "Not only are Democrats opposed to the wall, there is significant Republican opposition as well."
Democrats in both chambers have some leverage despite being in the minority. In the House, a group of conservatives, led by the Freedom Caucus, are expected to oppose the spending bill currently being negotiated in private, bipartisan talks. Meanwhile, 60 votes are needed in the Senate and Republicans only hold 52.
Mulvaney said he knows that Democrats want to see the funding of a key piece of the Affordable Care Act, government subsidies paid to insurance companies to help reduce out-of-pocket costs for low-income people, and that to get that, they'd have to agree to some of the president's demands. Trump first suggested in a Wall Street Journal interview last week that he was considering using the subsidies as a way to force Democrats to negotiate.
"I will be curious to see how they respond," Mulvaney said Thursday. "If they tell us to pound sand, I think that's probably a disappointing indicator of where the next four years is gonna go. If they tell us, however, that they recognize that President Trump won an election," then some of his priorities should be funded, Mulvaney said, adding, "Elections have consequences, as folks who win always like to say."
Before it's here, it's on the Bloomberg Terminal.
LEARN MORE