markets
Coffee and Thin Liquidity on Traders' Menus for French Vote
By
Currency desks to start work in Australia before dawn Monday

Investors face another nervy night after Brexit, Trump votes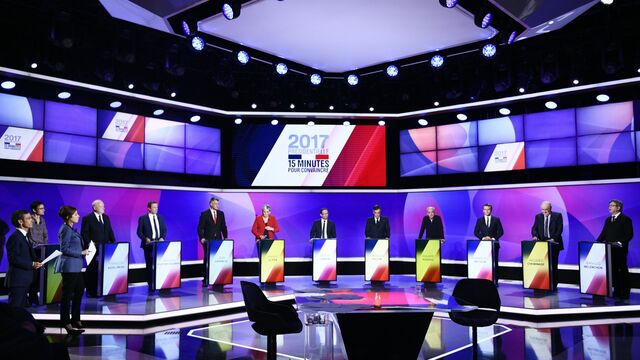 It may not be cafe au lait, but traders are likely to need plenty of coffee to sustain them through the first round of the French election.
Ten thousand miles away in Melbourne, IG Ltd.'s trading crew are due at their desks before dawn on Monday to deal with any fallout, while back in Europe, Societe Generale AG will be staffed overnight, according to a person familiar with their plans who asked not to be named because they aren't authorized to speak publicly. Wall Street banks have no plans to staff their desks in New York as traders in Asia and Europe will be closer to the action and amid expectations liquidity will be thin.
Staff at HSBC Holdings Plc. will work extended hours, a spokeswoman said, Tradition is asking more voice brokers to come in on Sunday, while London-based Caxton FX Ltd. is providing its night owls with pizzas. Other analysts and investors will be nervously watching from home, ready to dash to the office should French voters spring a surprise.
With the first predictions from France due at 8 p.m. Sunday in Paris, currency markets -- which open one hour later -- will give traders an early chance to react. At IG in Australia a "fully-manned" team will be on deck as the results roll in, according to Chris Weston, the firm's chief market strategist.
"Political events have a significant ability to alter volatility, more than any other event," he said.

A spokeswoman for SocGen confirmed that they will hold conference calls for clients on Sunday night but declined to comment further on the bank's plans.
Shifts in opinion polls have bolstered the focus on Sunday's first round, which decides which of the top candidates progress to the run-off vote. The campaign has turned into a four-way race, with anti-euro candidate Marine Le Pen and independent Emmanuel Macron running just ahead of Republican Francois Fillon and the Communist-backed Jean-Luc Melenchon.
While polls show that either Macron or Fillon -- considered the more market-friendly candidates -- would be favored against the less-centrist opponents in a run-off, it's the outside prospect of a Le Pen-Melenchon one-two that will keep traders sweating on Sunday. That's reflected in the options market, which reflects the first round of French elections as posing the greater risk.
Deja Vu
The playbook of late nights and early starts is a familiar one for traders after 2016's Brexit vote, the U.S. election and Italy's constitutional referendum in December. As with the French election, those shocks, and the subsequently raucous reaction in markets, took place initially during Asian trading hours -- when liquidity tends to be lower -- making currencies more prone to sudden moves. The FX market open on Monday is an especially vulnerable time, with traders in Europe and the U.S. still on their weekends.
Twice-Bitten Traders Take No Chances With French Election Risk
Traders spoken to in Asia, who didn't want to be identified as they're not authorized to speak to media, said they'll be at their desks from about 3 a.m. Singapore time. There will be little leeway to add to risk profiles, according to one, with staff told to just clear existing positions rather than initiate anything new, and to be mindful of the potential for widening spreads.
Don't Let the French Election Ruin Your Weekend: Macro View
IG's Weston's predicts a Le Pen-Melenchon run-off could push the euro below parity with the dollar, a 7.7 percent drop from current levels, and akin to the 10 percent drop in the pound seen after the Brexit vote. While those memories are unnerving traders, some are also concerned about a repeat for more practical reasons.
"I'll be following the action at home until the result is clear," said Gordon Shannon, a money manager at Twentyfour Asset Management LLP in London, who bought euro-dollar put options on Thursday to hedge against a non-market friendly outcome. "Hopefully it won't be another Uber 5x surge charge at 4 a.m. like Brexit as everyone rushes in to deal with the fallout."
Here a roundup of how some investors and strategists are preparing for the vote:
Bank of America Merrill Lynch
"We will have coverage from Asia in any case. Personally, I will be ready to come to the office if the exit polls are bad," said Athanasios Vamvakidis, head of G-10 currency strategy in London.
Markets are still under-pricing the risks and are "unprepared for the worst" -- that being if Le Pen and Melenchon are in the second round. If this scenario eventuates, markets could start pricing the risks of France leaving the euro, he said.
Citigroup Inc.
"We will have an early Monday morning start," said Zoeb Sachee, head of European government bond trading in London.
"Unless you have a Melenchon-Le Pen second round, I expect liquidity to be reasonable on Monday morning."
Commonwealth Bank of Australia
"We'll come in on Sunday evening for the release of exit polls and see what the lie of the land looks like," said London-based strategist Peter Kinsella.
"If we see increasing chances of a Le Pen versus Melenchon second-round vote, then it'll be a late night."
Deutsche Bank AG
"I will be there," said Sebastien Galy, director of foreign-exchange strategy at the bank's office in New York. "Twenty-four-hour desks and trading desks in the U.S. and then early in Asia will likely be very well manned."
Clients will probably manage their stop losses and buy orders to avoid being affected by wild swings. Liquidity will build as Tokyo, Singapore and Hong Kong open and should surge with the start of trading in Zurich and London before fading, Galy said.
Oanda Corp.
After Brexit, "we're really over-preparing for any type of risk event," said Stephen Innes, a senior currency trader in Singapore who plans to arrive at work at 2 a.m. local time on Monday to catch the New Zealand market open
Oanda has reduced leverage on some trades as a "defensive mechanism" to protect clients in case of a strong reaction in markets. Le Pen getting around 30 percent of the vote would "provide some jitters for the market," he said
Innes will be watching the pound along with the euro, and may play the New Zealand dollar if there's a risk rally. Emerging-market currencies will also be on his radar, particularly the risk-sensitive Korean won
— With assistance by Emma O'Brien, Anooja Debnath, Anchalee Worrachate, Vassilis Karamanis, Tanvir Sandhu, Lilian Karunungan, and Michael G Wilson
(
Adds more details on SocGen's plans in sixth paragraph.
)
Before it's here, it's on the Bloomberg Terminal.
LEARN MORE