Carney Goes Quiet for Election
By
Period of public-speaking restrictions starts on Saturday

Prime minister has called general election for June 8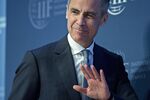 It's time for what's turning into an annual vow of silence for Mark Carney.
For the third time in as many years, the Bank of England governor and fellow policy makers are beginning a period of speaking restrictions. The latest silence is due to the June 8 general election and means no public statements aside from policy-specific communications, such as the May 11 Inflation Report and press conference, and no off-record meetings with the press.
With the decision taking effect at midnight Saturday, that means Michael Saunders's speech Friday will likely be the last from a policy maker for some time. The organizers of an event next week featuring Chief Economist Andy Haldane canceled the talk in an e-mail on Friday, citing the ban on speaking engagements.
Asked about the election after his speech in London, Saunders said it's "very important the BOE is, and is seen to be, politically neutral."
The purdah, which will last seven weeks, isn't the first for Carney since he joined the BOE in 2013. Under his leadership the central bank also opted to follow the parliamentary guidelines before the 2015 general election and Brexit vote last year. The BOE imposes its own restrictions ahead of policy decisions.
While the period of silence risks disrupting the BOE's communication plans at a time when it has placed fresh emphasis on engaging with the public, officials may be keen to follow the guidelines amid the minefield of political debate. The central bank faced condemnation over its commentary surrounding last year's European Union referendum, with some lawmakers accusing Carney of scaremongering over the economic impact of leaving the bloc.
They'll also be wary of repeating the mistakes of their predecessors. After the 2010 general election, then governor Mervyn King drew criticism for wading into the political sphere, saying he was "very pleased" with the budget plans of the newly formed Conservative-Liberal Democrat coalition.
Before it's here, it's on the Bloomberg Terminal.
LEARN MORE