Apollo Boosts Fund's Stock Allowance for 'Diamonds in the Rough'
By , , and
Firm's new buyout pool can invest up to 10% in public stocks

'Surprised more firms haven't done this': KKR's John Hockin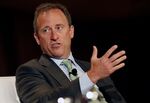 Apollo Global Management LLC is upping the amount it can invest in public stocks from its new buyout fund, a technique also used by KKR & Co. as private equity firms get creative to deploy record amounts of cash.
Apollo, which aims to raise at least $20 billion for its ninth global buyout pool, can use as much as 10 percent of it to buy stocks in the open market, according to a fund marketing document, a copy of which was obtained by Bloomberg. That's double the amount New York-based Apollo could allocate to stocks from its previous pool, offering documents show.
KKR latched onto the strategy of taking small, so-called toehold stakes four years ago. The firm can invest as much as 15 percent of its new $13.9 billion North American private equity fund in non-buyout bets, including toe-hold public stakes.
The idea is to buy into a company to establish a relationship for future buyout prospects, sway management to pursue specific goals, or ride out a troubled company's stock through some sort of recovery. Private equity firms, which acquire unlisted businesses or take public companies private, are finding increased opportunities to profit with leverage in the public equity market as takeovers remain expensive. Acquisition prices for U.S. businesses continue to ratchet higher, with the median U.S. deal done at 10.8 times cash flow in the first quarter, according to PitchBook Data Inc.
"The public markets for the first time in our history are affording us many, many diamonds in the rough," Josh Harris, who co-founded Apollo in 1990, said in a presentation last month to the Oregon Investment Council.
A spokesman for Apollo declined to comment.
Constructive Activists
The strategy harks back to the 1980s, when KKR occasionally took minority positions in companies such as Texaco and Beatrice as potential preludes to takeover offers. That resembled the modus operandi of corporate raiders such as Carl Icahn and T. Boone Pickens. KKR soon dropped the tactic, sensing that a friendly posture would better serve its purposes.
The assertive approach hasn't gone away. It's a mainstay of activist managers like Icahn and Elliott Associates. A handful of private equity firms, such as Golden Gate Capital and Sycamore Partners, use it.
But in resurrecting toe-holds, New York-based KKR set out to act constructively. It won't buy a minority holding unless a company's management is receptive to working with KKR to fix problems and build value, said John Hockin, who leads the public-equity effort within the firm's private equity business.
"We really only want to engage if it can be done in a collaborative way," Hockin said. "In some situations, management can view this as a white-knight type of approach."
That savior-like positioning has been a boon for deals. Blackstone Group LP's buyout of Team Health Holdings Inc., announced in October, arose after the sometimes-activist hedge fund Jana Partners criticized the hospital-staffing company for strategic missteps. Elliott pressured Qlik Technologies Inc. to pursue strategic and operational changes before the software maker was later acquired by Thoma Bravo last year. Vista Equity Partners bought Infoblox Inc. in November after the network-security company took heat from the activist Starboard Value.
PE Returns
Taking public equity stakes can give private equity firms a window into companies and their future without needing to commit to control ownership. The strategy seems to be working: KKR's aggregate toe-hold positions have performed in line with typical private equity return targets, Hockin said, which are at least 20 percent. So far, the firm has exited most of its positions by selling the shares back into the public market.
KKR has taken stakes in companies including chipmaker Marvell Technology Group Ltd., storage-device maker EMC Corp., which was once targeted by an activist and later was sold to Dell Technologies Inc., and software maker NetScout Systems Inc.
"The public markets have a tendency to overreact and create really interesting entry points for these companies," Hockin said. "Why not go build a 5 or 10 percent stake in a business at an attractive price, get to know the management team, help them, and if it turns into something strategic, that's great, but we're just as happy exiting through the public markets."
"I'm surprised more firms haven't done this," he added.
For Apollo, which took five public companies private in the past year, toe-holds could provide early entry with management for future deals. But while initial investments are making money for KKR, strong returns could be hard to continue producing, said Alex Slusky, the founder of private equity firm Vector Capital.
"It's a healthy development if it helps pave the way for imminent take-private deals" or helps stabilize companies' investor bases to allow for positive changes, Slusky said. "As a small shareholder in a public company, even with a board seat, it is very difficult to drive the kind of value-creation strategy that justifies the fees our industry charges."
Before it's here, it's on the Bloomberg Terminal.
LEARN MORE