Nigel Farage Says He Won't Stand in U.K. General Election
By
Former leader says he has 'big stage' to influence Brexit

Large Conservative majority is 'certainty' in election: Farage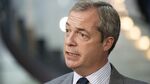 Former U.K. Independence Party Leader Nigel Farage, who spearheaded the campaign to take Britain out of the European Union, said he won't stand in the snap general election called by Prime Minister Theresa May, because he can better influence Brexit in the European Parliament.
Farage said on his LBC radio show that he can use his influence as a member of the European Parliament to ensure that the EU agrees to a Brexit deal that doesn't damage trade ties between Britain and the rest of the bloc. He said he plans to tour Europe campaigning against European lawmakers who intend to block a "sensible free-trade deal exit."
"I've got a big stage with European media across 28 member states," Farage said late Thursday. "I want to make sure that those MEPs have the maximum pressure exerted upon them by their constituents," he said, listing European industries that "sell much more to Britain than we sell to them, they actually call us treasure island. We are their best export market in the world."
Farage's decision means UKIP will be without its most recognizable politician as it seeks to replicate the support it garnered in the last election in 2015. Support for the party was 7 percent in the most recent YouGov poll on Wednesday, compared with the 13 percent of the vote it secured in 2015. Even then, it won only a solitary seat in the 650-member parliament. Douglas Carswell, its only lawmaker, quit the party last month, and won't stand in the June 8 election.
Farage, who's failed in seven attempts to be elected to the U.K. Parliament in Westminster, said he supports UKIP leader Paul Nuttall "full square." In a separate article for the Daily Telegraph, he said there's no need for UKIP supporters to back the Conservatives in order to stymie the prospect of a pro-EU alliance between Labour, the Liberal Democrats and the Scottish National Party, because a large Conservative majority is a "certainty."
Before it's here, it's on the Bloomberg Terminal.
LEARN MORE