Trump Hosts NFL Champ Patriots, a Team Divided on the President
By and
Several players opted not to visit the White House after win

Tom Brady says he missed trip for 'personal family matters'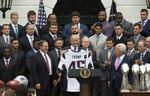 President Donald Trump welcomed the New England Patriots into the Oval Office on Wednesday, honoring a football team that is as publicly divided about his presidency as much of the rest of the country.
No sports team has closer ties to Trump, who has boasted of his friendships with the Super Bowl champions' owner, head coach and quarterback. But several Patriots boycotted the visit for political reasons.

"With your backs against the wall and the pundits -- good ol' pundits, boy they're wrong a lot, aren't they -- saying you couldn't do it, the game was over. You pulled off the greatest Super Bowl comeback of all time," Trump said.
At least seven players, including star quarterback Tom Brady, said they would sit out the new president's first White House ceremony for a champion sports team. In a statement, Brady said he was missing the event due to "personal family matters." Others, including safety Devin McCourty, cited political opposition to Trump's presidency.
And the team's visit came against a gruesome backdrop: Aaron Hernandez, a former Patriots tight end, committed suicide in a Massachusetts prison cell overnight, according to state officials. Hernandez was serving a life sentence for murder without the possibility of parole.
Partisan Visit
Trump's presidency has heightened partisanship even in subjects once considered apolitical in Washington -- including White House visits by champion sports teams. If the Patriots' visit is any indication, White House celebrations of sports champions will take on a more partisan tone under Trump.
In addition to Brady and McCourty, running back LeGarette Blount, defensive tackle Alan Branch, linebacker Dont'a Hightower, tight end Martellus Bennett, and defensive end Chris Long all said publicly they would not attend the White House ceremony.
The Patriots won the Super Bowl on Feb. 5, a few days after Trump signed an executive order banning travel from seven Muslim majority nations. The order was later blocked by the courts, rescinded and replaced with a second ban on six countries that is currently being litigated.
"For me it was simple -- I don't believe in excluding other people," McCourty said in a video published by Green Stripe News, which describes itself as a platform for people harmed by racism, bigotry and sexism. "Right away, I knew I wasn't going because it was something I thought about before we even won the game."
Future Conversation
In the video, Long said he couldn't tell his son that he had visited with Trump.
"When my son grows up -- and I believe the legacy of our president is going to be what it is -- I don't want him to say 'Hey, Dad. Why did you go when you knew the right thing was to not go?"' he said.
Blount said in an interview on Fox Sports Radio's "The Rich Eisen Show" after the Super Bowl that "I just don't feel welcome in that house."
The outspoken Bennett joked on Instagram after Trump's election that he might move to outer space, using the hashtag #ImWithHer to indicate support for Trump's opponent, former Secretary of State Hillary Clinton.
During his political campaign, Trump repeatedly touted his relationship with the Patriots, including his friendship with Brady and head coach Bill Belichick.
"Tom Brady likes me, what can I tell you?" Trump said during an October 2015 political rally in Macon, Georgia. "If Tom Brady likes you, you're in pretty good shape in Massachusetts."
Friend of Tom
In a tweet a month earlier, Trump said he was headed to Boston, where his "friend Tom Brady is a great competitor and golf partner."
While Brady never explicitly endorsed Trump, he displayed a red "Make America Great Again" cap in his locker. Brady did not attend a White House ceremony hosted by President Barack Obama after the Patriots won the Super Bowl in 2015.
"Thank you to the president for hosting this honorary celebration and for supporting our team for as long as I can remember," Brady said Wednesday in a statement. "In light of some recent developments, I am unable to attend today's ceremony, as I am attending to some personal family matters."
Patriots owner Bob Kraft is a billionaire and personal friend of Trump's of more than two decades. Kraft Group LLC, a firm associated with Kraft, gave Trump's inaugural committee $1 million.
Kraft called Trump "a man who is mentally tough and hardworking as anybody I know" and said he faced "odds almost as long as we faced in the fourth quarter. He persevered to become the 45th president of the United States."
Kraft flew with Trump on Air Force One last month from West Palm Beach, Florida, to Washington, and also sat at the same table as Trump and Japanese Prime Minister Shinzo Abe when the U.S. president hosted Abe at Mar-a-Lago in February.
Before the reception got under way, Patriots tight end Rob Gronkowski interrupted the daily White House press briefing, asking press secretary Sean Spicer whether he needed help as he answered reporters' questions.
"I think I got this, but thank you," said Spicer, a Patriots fan.
Before it's here, it's on the Bloomberg Terminal.
LEARN MORE