Osborne Stands Down as U.K. Lawmaker, Evening Standard Says
By
Former Chancellor is editor of the free London daily paper

Opposition lawmakers had called for Osborne to step down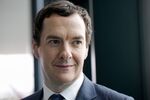 Former Chancellor of the Exchequer George Osborne will stand down as a lawmaker at the planned general election in June, the newspaper that hired him said.
"I am stepping down from the House of Commons -- for now," Osborne wrote in a letter to Conservatives in his Tatton constituency, the Evening Standard reported on Wednesday. "I will remain active in the debate about our country's future and on the issues I care about."
The resignation allows Osborne to step up his criticisms of Prime Minister Theresa May over her Brexit strategy as editor of the London free-sheet. The former chancellor, who fronted the Remain campaign in last year's referendum on European Union membership, has already been critical of the premier's approach.
May on Tuesday announced plans to call a general election on June 8. While she still needs the approval of Parliament, opposition parties have signaled their support for the plan, which will be put to a vote in the House of Commons on Wednesday. It needs the support of two-thirds of lawmakers in the lower house to proceed.
Osborne's controversial appointment last month as editor of the Evening Standard sparked a chorus of calls from opposition lawmakers for him to quit his seat in Parliament.
"At the age of 45, I don't want to spend the rest of my life just being an ex-Chancellor: I want new challenges," Osborne wrote. "I will go on fighting for that Britain I love from the editor's chair of a great newspaper. It's still too early to be writing my memoirs."
As well as the editorship of the Standard, Osborne has raked in hundreds of thousands of pounds since leaving the government, through speaking engagements and his role as an adviser to asset manager BlackRock Inc. That's raised questions about how much work lawmakers should be allowed to do outside their parliamentary role.
May, who fired Osborne as chancellor last July, had defended his right to remain a member of Parliament, saying lawmakers had always held other jobs, bringing "a breadth of experience into the House of Commons."
Before it's here, it's on the Bloomberg Terminal.
LEARN MORE