Ontario Set to Unveil Its Plan to Cool Toronto Housing
By and
Non-resident speculation tax expected to curb foreign buying

Rent controls to be among new measures, Toronto Star reported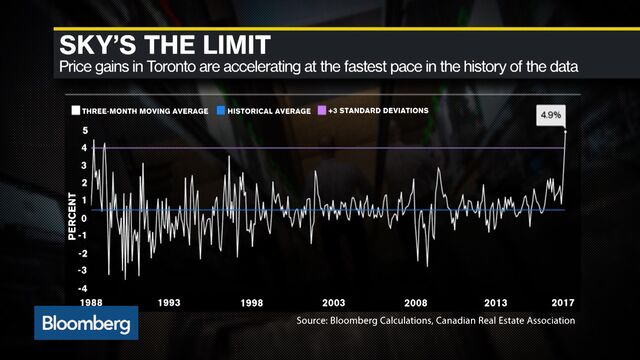 Ontario is expected to impose a tax on "non-resident speculators" when it announces new measures Thursday to cool the red-hot housing market in Toronto, according to people familiar with the plans.
The measures are intended to improve housing affordability, and address both supply and demand, the people said, speaking on condition of anonymity because the plans are not yet public. The measures are also said to include a new tax aimed at curbing purchases from non-resident speculators.
Ontario Premier Kathleen Wynne, Finance Minister Charles Sousa and Housing Minister Chris Ballard are scheduled to make an announcement at 9 a.m. The Globe and Mail reported Thursday, without saying where it got the information, that the tax rate could be 15 percent and that rent control will be expanded to buildings constructed after 1991.
Sousa spokeswoman Jessica Martin declined to comment.
Home prices in the Toronto area climbed 6.2 percent last month, the biggest one-month gain on record, according to a benchmark price index by the Canadian Real Estate Association, and are up almost 30 percent in the past 12 months. Bank of Canada Governor Stephen Poloz said last week the price gains are "divorced" from the typical measures of demand, such as income growth and demographics, and said they are unsustainable.
'Runaway Prices'
"The focus has to be on runaway prices, more so than affordability per se," Robert Hogue, a senior economist at Royal Bank of Canada, said in a phone interview. "The risk now is about expectations in the market, or market psychology, as you have both sellers and buyers expecting much higher prices."
The move comes a week before the province tables its budget on April 27, and two days after Sousa said the government recognizes that "now" is the time to address runaway home prices.
Sousa on Tuesday met Canadian Finance Minister Bill Morneau and Toronto Mayor John Tory, who said that possible steps include taxing homes left empty for speculative purposes.
'The Challenge'
While rent control would help keep costs down, "the challenge is that we have a housing shortage in this city," Phil Soper, chief executive officer of Royal LePage, a unit of Brookfield Real Estate Services Inc., said by telephone Wednesday. Rents in Toronto haven't kept pace with property values and controls would limit new investment and hurt supply, he said.
Policy makers have imposed an across-the-board foreign buyers' tax in Canada's other surging housing market, Vancouver. The market is already surging again after that effort, said Elton Ash, western Canada regional executive vice president for Re/Max Holdings Inc.
"You can't tax your way out of this situation," he said, adding the foreign-buyer tax had the biggest impact on luxury homes, but demand is already returning, particularly from mainland China.
"They ultimately make decisions based on political motivations as opposed to economic realities. The foreign property transfer tax was hugely popular with B.C. residents and it will be the same in Ontario," he said. "But people move on emotion on these things. We can't control cycles."