Japan 10-Year Yield Drops to Zero for First Time in Five Months
By
BOJ target is zero percent so level is not an issue: Barclays

Little chance yield will drop below zero, Nomura says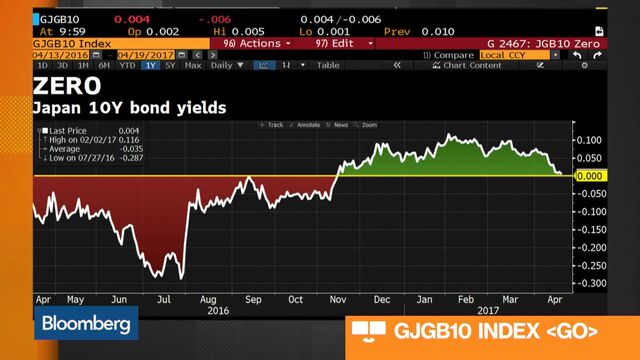 Japan's 10-year bond yield fell briefly to zero percent for the first time since November as U.S. Treasury yields plunged on weak economic data while tensions over North Korea and uncertainty over France's presidential election buoyed haven demand.
The benchmark yield rose back to 0.005 percent before the Bank of Japan conducted its regular bond buying operation where it maintained the purchase amount for 5-to-10-year maturities at 450 billion yen ($4.1 billion). The central bank had boosted that figure from 410 billion yen in late January when yields rose toward 0.1 percent.
"It shows the BOJ has no intention of stemming the drop in yields at least at current levels," said Katsutoshi Inadome, senior bond strategist at Mitsubishi UFJ Morgan Stanley Securities Co. in Tokyo. "It was key whether the BOJ would cut its purchases or not, so the move today confirms its tolerance for the 10-year yield falling to negative. The BOJ's stance to control the 10-year yield in a range of plus-to-minus 10 basis points from zero is unchanged."

Treasury 10-year yields fell eight basis points Tuesday to a five-month low of 2.17 percent. The Guardian reported the U.S. military is considering shooting down North Korean missile tests, citing two unidentified people briefed on the planning. The U.S. is closely monitoring the situation in North Korea, a White House spokesman said.
"Given the close correlation between JGBs and Treasuries, Japan's 10-year yield hitting zero came as no surprise especially with risk aversion spurring an unwinding of the reflationary trade," said Naoya Oshikubo, a rates strategist at Barclays Plc in Tokyo. As the BOJ targets zero percent for the 10-year yield, it could prove a hard line to break, he said.
BOJ Target
The BOJ aims to keep the 10-year yield around zero percent under its yield curve control policy to bolster momentum for economic recovery. Oshikubo said if the 10-year yield fell below zero, the central bank could curb its bond purchases.
Inadome of Mitsubishi UFJ thinks otherwise. He said the central bank may allow the 10-year yield to fall toward minus 0.1 percent, judging from the last time it cut its bond purchases in September when the rate reached minus 0.09 percent.
"There may be other factors prompting the BOJ to reduce its purchase amount, such as a move in the yen or the speed of yield moves," Inadome said. "But the most important driver is the level of yields. Zero percent itself does not carry much meaning for the BOJ."
There is very little chance the 10-year yield will drop below zero, according to Takenobu Nakashima, quantitative strategist at Nomura Securities Co. in Tokyo. Japan's three-month Treasury bill is yielding close to minus 0.1 percent, the rate the BOJ charges on some financial institutions' reserves parked at the central bank, he said.
"When you draw a curve from the three-month bill yield, the 10-year yield should stop at zero," Nakashima said. "The 10-year yield below zero will not be sustainable."