Islamic State Nears Egypt Tourism Hub With South Sinai Attack
By
Gunmen killed a policeman, wounded three others at checkpoint

Incident near St. Catherine's Monastery popular with tourists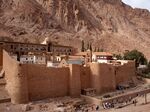 The Islamic State's Egyptian affiliate claimed responsibility for an attack on a police checkpoint near St. Catherine's Monastery in south Sinai, the latest strike by the group against Egypt's Coptic Christian minority and the country's vital tourism industry.
One policeman was killed and three others were wounded when militants opened fire at the checkpoint, the Interior Ministry said in a statement late Tuesday. Several militants were also injured in the shootout. The Islamic State claim was reported by SITE Intel Group, which monitors jihadist channels on social media.
Authorities had already declared a three-month state of emergency and vowed stronger anti-terrorism measures after twin church bombings on Palm Sunday left at least 45 dead and dozens wounded. The Islamic State also claimed those attacks, as it expands beyond its local base in north Sinai and targets Egypt's orthodox Christian minority ahead of Pope Francis's visit later this month.
St. Catherine's Monastery is popular among visitors in its own right, while its proximity to key tourism sites including the Red Sea resort of Sharm El-Sheikh is also a potential setback for Egypt's struggling tourism industry. Visitor numbers have yet to recover since the 2015 downing of a Russian passenger jet after it took off from Sharm El-Sheikh killed all 224 on board.
Boosting tourism is key component of Egypt's plan to revive the economy. Authorities floated the currency last year to end a crippling dollar shortage and to finalize a $12 billion International Monetary Fund loan. The decision, along with an accompanying cut in fuel subsidies, caused inflation to surge.
The IMF on Tuesday lowered its projection for Egypt's economic growth this year to 3.5 percent, though it also said reforms underway would drive a 4.5 percent expansion in 2018.
Before it's here, it's on the Bloomberg Terminal.
LEARN MORE