India's Former Deputy Premier to Face Charges for Razing Mosque
By and
India top court restores criminal charges aginst BJP leaders

Court asks lower courts to complete trials in two years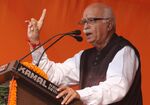 India's Supreme Court revived conspiracy charges against senior leaders of the ruling Bharatiya Janata Party for their alleged role in the demolition of a mosque in a northern town that triggered deadly riots more than two decades ago.
A two-judge bench comprising P.C. Ghose and Rohinton Nariman allowed a federal investigator's plea that Lal Krishna Advani, a former deputy prime minister, BJP leader Murli Manohar Joshi, Water Resources Minister Uma Bharati and 10 others, be tried for criminal conspiracy. The court on Wednesday also merged the trials of senior BJP leaders and Hindu activists and said the proceedings should be completed in two years.
The trial may distract Prime Minister Narendra Modi from pursuing his development agenda. It may also polarize people in the world's second-most populated nation as concerns increase about India becoming more divided and less tolerant. Hindu nationalists have attacked Muslims for allegedly transporting cows -- revered by Hindus -- and even filmed themselves beating Dalits -- formerly known as untouchables -- for allegedly skinning a dead cow, a traditional occupation.
Bharati told reporters that there was no conspiracy to demolish the mosque as all developments related to it were in the open. "I was involved in Ayodhya incident," she said. "I remain unrepentant."
An aide in Advani's office said the leader won't comment, while Joshi wasn't available. 
Land Dispute
The High Court in Allahabad in 2010 upheld a lower court ruling that quashed charges of criminal conspiracy against the leaders for the 1992 demolition by Hindu activists of the 16th-century Babri mosque in Ayodhya. The mosque's razing triggered Hindu-Muslim riots that left more than 2,000 people dead.
The country's top court will also hear a case of disputed land ownership in Ayodhya, in Uttar Pradesh. In 2011 it suspended the 2010 Allahabad High Court ruling that mandated a split which would have given Muslim's one-third of the land and Hindu groups two-thirds. Hindu groups have said the mosque was built over the ruins of a temple that marked the birthplace of their god, Ram.
In March, a Hindu priest Yogi Adityanath, a strong supporter of building a Hindu temple at the disputed site, became chief minister of Uttar Pradesh, raising expectations among Hindu groups that the process of making a Hindu shrine would be fast-tracked. The BJP, which won a majority in the state assembly elections, has listed the temple among other promises in its election manifesto.