House Oversight Chairman Chaffetz Won't Seek Re-Election
By
Utah lawmaker says he may run for office again in the future

Chaffetz briefly ran for speaker when Boehner stepped down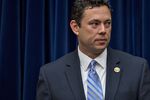 U.S. House Oversight Committee Chairman Jason Chaffetz, who investigated Hillary Clinton over the Benghazi attacks and her use of personal email, said he won't seek re-election in 2018 though he isn't ruling out a future run for political office.
A House member since 2009, Chaffetz of Utah said Wednesday in a Facebook posting, "I have long advocated public service should be for a limited time and not a lifetime or full career." He said he won't be a candidate for any office next year.
Chaffetz's pursuit of Clinton led to his statement on Twitter less than two weeks before the presidential election revealing that FBI Director James Comey had reopened his probe of her email use. Chaffetz vowed to continue his investigations of Clinton even after Donald Trump won the election.
But after Trump took office, Chaffetz was accused of refusing to review potential conflicts in the White House. In February, he did ask the White House to explain whether any classified documents were reviewed in the dining room at Trump's Mar-a-Lago estate during a dinner with the Japanese prime minister.
During the buildup to a House vote on Obamacare repeal legislation -- which was scrapped -- Chaffetz attracted criticism for suggesting that poor people may be forced under the GOP plan to choose between buying health care or "that new iPhone that they just love."
'Serious, Serious Look'
Chaffetz, 50, said Wednesday he has no "ulterior motives" for his decision not to seek re-election. He was quoted in the Deseret News in January as saying he would take a "serious, serious look" at running for governor, a position on the election ballot in 2020.
"Many of you have heard me advocate, 'Get in, serve, and get out.' After more than 1,500 nights away from my home, it is time,"  he said in the Twitter posting. "I may run again for public office, but not in 2018."
A bid for the Senate appears less likely. Utah Senator Orrin Hatch has said he's running for another term in 2018, when Chaffetz said he wouldn't be seeking any office, and the state's other Republican senator, Mike Lee, was re-elected in November with 68 percent of the vote.
House Speaker Paul Ryan said on Twitter, "Thankful to have served with @jasoninthehouse, a great defender of liberty and limited government. Wish him the best."
Chaffetz led a House Oversight subcommittee's investigation into the 2012 attacks in Benghazi, Libya, where four Americans were killed. Last year, as chairman of the committee, he asked federal prosecutors to open an investigation into whether Clinton committed perjury before Congress regarding her use of a private email server.
IRS Commissioner
The oversight panel under Chaffetz also drew headlines for its investigations of Secret Service controversies and Internal Revenue Service Commissioner John Koskinen's handling of congressional requests for information about the agency's handling of Tea Party groups' requests for tax-exempt status.
Chaffetz briefly ran for House speaker in 2015 after John Boehner stepped down. Paul Ryan was chosen as Boehner's successor instead.
Chaffetz's announcement comes as Utah Democrat Kathryn Allen has stockpiled more than $534,000 to run for Chaffetz's House seat next year, according to Federal Election Commission filings through March 31. Chaffetz has about $402,000. At least one Republican challenger has emerged, Damian Kidd, with $1,594 on hand.
Internal House Republican rules limit committee chairmanships to six years, which would have permitted Chaffetz to keep the Oversight gavel through 2020.
Before it's here, it's on the Bloomberg Terminal.
LEARN MORE