Puerto Rico's Governor Has to Clean Up His Dad's Mess
By and
Governor Rossello faces a May 1 deadline to strike a deal

Days are a whirlwind of meetings, pep talks and spreadsheets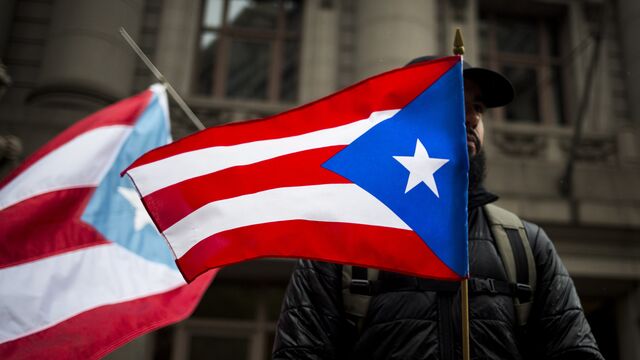 From the podium at the convention center that his father built, the governor trying to save Puerto Rico beheld his challenge: about 60 men and women staring back, sating their appetites with complimentary Pringles and coffee.
These weren't Governor Ricardo Rossello's constituents or the U.S. commonwealth's Senate. No, this was his cabinet, the embodiment of the swollen bureaucracy he had promised to tame after he was elected in November. And the truth is, the people in front of him didn't even represent all its members. Some called in via Skype. Others simply couldn't make it.

Athletic, fit and handsome with blue-green eyes, the 38-year-old neophyte looks like a politician imagined by television executives. Unfortunately for Rossello, there's no script to follow as he oversees the biggest debt restructuring in municipal-bond history. He must rein in America's most byzantine government. And he must break with the legacy of his father, who saddled the island with expensive developments while running up its debt as governor two decades ago.
"A lot of people out there doubt we can do it," Rossello told his army of ministers. "That's the bet: failure. What I'm saying is, just like we've done in the past, let's show them we can do this right."
Trust in the rookie governor doesn't abound, not even from those within his own New Progressive Party. William Villafane, Rossello's chief of staff, warned the cabinet not to undermine him or speak behind his back. In an interview later, Rossello said he is wary of "that one loose screw over here or there to sort of make the whole of government collapse."
Rickety Island
The situation is precarious. The island's economy has been contracting for a decade. Strikes are frequent, blackouts regular and key engines of growth -- including pharmaceutical companies -- have taken their factories elsewhere. Last year, almost 65,000 residents left the island, keeping pace with the previous two years, when the exodus reached the worst since at least the 1980s. Almost half who remain live in poverty on an island where median household income stands at $19,350. Residents rely disproportionately on the public sector. A quarter of the labor force works for the government.
Rossello's first major task was to submit a recovery plan to an oversight board the U.S. Congress installed last year. A biomedical engineering Ph.D., Rossello likes to pore through the financial data himself and says he can often be found staring at spreadsheets at 3 a.m., before the day's events interrupt him. His proposal ultimately relied heavily on policies like cracking down on tax evasion and cutting expenses by consolidating departments, rather than mandating government job cuts as the panel suggested.

His plan also allocated an average of about $1.2 billion annually for debt service, and relied on economic projections the board found unrealistic. In March, he revised that to an annual average of $800 million. While in line with the board's initial recommendation, it means the island would wind up repaying less than a quarter of what it owes by 2026. Puerto Rico has until May 1 to settle with creditors before a legal shield against bondholder lawsuits lifts. If it can't strike a deal, the board can file for a bankruptcy-like proceeding. Bond investors -- many of which are U.S. hedge funds -- are bracing for big losses. The island's most active general-obligation bond trades at about 63 cents on the dollar.
"It is a complex situation," Rossello said in an interview in the governor's mansion. "It is very hard from me to see how a legal battle will produce a better result than a renegotiation effort."

Many creditors are frustrated. First, the administration delayed negotiations until the recovery plan was approved. Then, the federal panel scheduled sessions with some of the largest creditors for little more than two weeks before the deadline. The delays led to speculation that the true aim of the governor and board is to push the island into a courtroom restructuring.
"Everybody who is a bondholder of the government really believes they are being taken for a fool," said Rafael "Tatito" Hernandez, a congressional representative from the opposing Popular Democratic Party. "It's this double speech. We call it 'dos caras.' The two faces of Ricky."
Freighted Legacy
For all Rossello's youthful sheen, he is a product of elites. On that Tuesday in San Juan, the cabinet met at the Dr. Pedro Rossello Gonzalez Convention Center, named after his father. As governor, the elder Rossello drove up spending on everything from near-universal health care to infrastructure. His indoor arena, the Coliseo de Puerto Rico, was conceived for an Olympic Games that never materialized, and the urban train he developed is little used.
By December 1994, two years into the elder Rossello's term, public debt was $15.1 billion. By the time he left office some six years later, it was $25.7 billion. Today, it stands at more than $70 billion.

During his tenure, the U.S. Congress dealt the island a major setback, deciding in 1996 to narrow a provision that had attracted companies to the island by allowing them to avoid income taxes. When the rule was phased out in 2006, many companies had begun to leave, sending Puerto Rico into recession. That year, the island started selling bonds to cover operating costs rather than capital expenses.
"The mess we have is because of the ideology of his father," said Hernandez. "That is the same ideology of his son."
Rossello said he admired his father's legacy, particularly his health-care reforms. He said, though, that harsh criticism he heard led him to shun politics as he grew up in the governor's mansion.
"I always wondered, why do it?" he said. "I saw my dad work hard and then would see and know his interest and intentions, and that wasn't necessarily the narrative you would see in the press."
Instead he dedicated himself to sport and study. A young tennis star, he became varsity captain at the Massachusetts Institute of Technology. He later earned a doctorate from the University of Michigan. As a student, he was known for late nights at the lab. Fellow graduate student Nadder Sahar said he got to know Rossello playing pick-up basketball, but he never fully grasped his friend's background until they traveled to the island together one time and were picked up at the airport by an official escort.
Prophetic Mark
Rossello has an origin story for his political career. He said that around 2004 a stranger showed him a scar on his chest. It was the result of a life-saving surgery, he said, that happened only because of Rossello's father's health-care overhaul.

"That sort of started working in the background of my brain," Rossello said. "After all the trial and tribulations and all the difficulties, you know, it was worth it."
He moved back to the island in 2011, leaving post-graduate work at Duke University for a professorship at the University of Puerto Rico's medical campus. He founded a group advocating more autonomy for the island and began to think seriously of running for governor. He took 42 percent of the vote last year, enough to claim victory in a six-way race.
Since then, he has kept a grueling schedule as he tries to steer the commonwealth to firmer footing.
On the day of the cabinet meeting, he started with a 7:30 a.m. session with a group of advisers. As he instructed them on how to tackle the Zika virus, he learned of a strike at the university to protest funding cuts. The meeting broke briefly to watch television coverage. Then came a keynote address at a conference for mainland investors. There was a school tour. There was a briefing about the aerospace industry. At the governor's mansion, the 3 a.m. spreadsheets awaited.
— With assistance by Michelle Kaske
Before it's here, it's on the Bloomberg Terminal.
LEARN MORE