business
Here's Gorman's Wish List for Changes to U.S. Bank Regulations
By
Morgan Stanley CEO says some rules 'ripe for real change'

Making CCAR biennial, reducing leverage ratios among ideas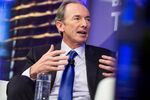 After reporting first-quarter results that beat analysts' expectations, Morgan Stanley Chief Executive Officer James Gorman offered a laundry list of suggestions for revising U.S. financial regulations. Some rules are "ripe for real change," Gorman, 58, told analysts Wednesday in a conference call.
* Make the Federal Reserve stress tests and living will reviews biennial rather than annual, so banks and regulators have more time to digest changes.
"It is an enormous task," Gorman said. "In our case, it's something like 25,000 pages I think we submit on an annual basis and it takes an enormous effort by our regulators to digest that. For an exercise of this rigor and substance, I think there would just be more value added in having people digest it for a year and have really proper thoughtful responses."
* Allow banks to get feedback on their stress tests, known as the Comprehensive Capital Analysis and Review plan, before submitting to regulators how much they want to increase stock dividends and repurchases. Banks now make both submissions at the same time, and this has caused some firms to trip up.
"If the banks are able to submit their CCAR plan, get the results back and then submit what the capital ask is, there would be no guessing about how much capital you have or you don't have," he said. "Had Morgan Stanley done that last year, we would've had $2 billion of extra capital to adjudicate."
See also: Morgan Stanley traders top Goldman for first time since '11
* Discard the CCAR assumption that banks will continue to repurchase stock for more than two years after entering a financial crisis. Morgan Stanley, for example, is required to hold an additional $7.7 billion of capital under the theory it would continue with buybacks, which Gorman said is implausible.
"There is no bank board that would continue to buy back stock when their capital is being depleted," Gorman said. "There's a very easy fix for that. You could have the boards sign a letter or give the Federal Reserve veto rights to eliminate the buyback program the moment we get into this kind of scenario."
* The supplementary leverage ratio -- one of the newer capital requirements layered on top of others -- should revert to the 3 percent level used by European regulators. In 2014, U.S. bank watchdogs increased the leverage ratio to 5 percent for the country's eight biggest lenders.
These suggestions are "pragmatic, sensible, just obvious things that could be done to make the thing more transparent and more realistic about the way the real world operates," Gorman said. The Trump administration "should look at it because the U.S. financial system should be operating on the same footing as financial systems around the world."
Before it's here, it's on the Bloomberg Terminal.
LEARN MORE