Five Things You Need to Know to Start Your Day
Get caught up on what's moving markets.
By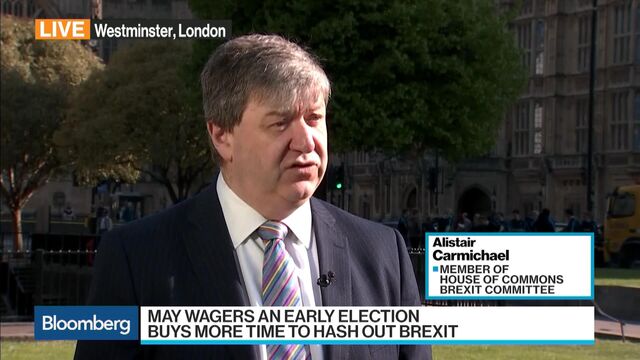 Want to receive this post in your inbox every morning? Sign up here.
The pound holds an election rally, the French vote is still too close to call, and the global bond market calls time on the reflation trade. Here are some of the things people in markets are talking about today.
April. May: 'June' 
Yesterday's surprise election call by British Prime Minister Theresa May helped briefly push the pound over $1.29. The currency has since unwound some of those gains and was trading at $1.2815 by 5:16 a.m. Eastern Time. The timing of the election seems like an astute political move from May, as the U.K. economy is in something of a sweet spot, with low unemployment and consumers yet to feel the pinch from rising inflation. The latest polls have her Conservative Party 21 percentage points ahead of the nearest rivals. 
French coin toss
If the U.K. election looks like a one-way bet, the result of first round of the French presidential election due this Sunday is increasingly uncertain. Independent Emmanuel Macron and the National Front's Marine Le Pen are expected to be the candidates to make it through to the second-round vote, but with their lead in the polls remaining quite narrow, Communist-backed Jean-Luc Melenchon has emerged as a possible spoiler in Macron's run to the presidency. While hedging costs for investors have jumped, some see an opportunity in French-election risk. 
Reflation let down 
Goldman Sachs Group Inc. dropped their long dollar positions, citing a slowdown in the reflationary momentum of the U.S. economy. In the mutual-fund industry, the same idea seems have caught on, with money flowing out of U.S. equities as investors step away from reflation bets. In bond markets, Treasury yields have fallen to the lowest level since November across all maturities, with risks of further declines as key technical levels are breached. Meanwhile, bets on a Federal Reserve rate hike in June have fallen below 50 percent.
Markets mixed
Overnight, the MSCI Asia Pacific Index dropped 0.4 percent, while Japan's Topix index closed broadly unchanged as the yen slipped against the dollar. In Europe, the Stoxx 600 Index was 0.4 percent higher at 5:50 a.m. as automakers rallied following strong sales numbers. S&P 500 futures gained 0.3 percent. 
Trump weighs options
U.S. President Donald Trump faces no easy options when it comes to preventing North Korea from developing a long range missile capable of delivering a nuclear warhead to the United States. It seems increasingly likely that any military strike on Kim Jong Un's regime would be a unilateral act by the U.S., as Asian allies are cool on the idea. Vice President Mike Pence issued a fresh warning, saying the world mustn't doubt Trump's resolve following "decisive action" against Syria and Afghanistan.
What we've been reading 
This is what's caught our eye over the last 24 hours.
An Asia edition of Five Things is launching soon. Sign up here to be among the first to start getting it delivered to your inbox.
Before it's here, it's on the Bloomberg Terminal.
LEARN MORE