Brazil's Temer Scores Win on States' Debt Bill in Congress
By and
Lower house of Congress voted 301-127 in favor of legislation

Bill offers states debt relief in exchange for austerity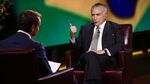 Brazil's lower house of Congress has approved the base text of a bill to provide debt relief for the country's most cash-strapped states in return for austerity measures.
Lawmakers voted 301-127 late on Tuesday to offer states federal assistance in exchange for reducing tax exemptions, selling off public companies, capping their payroll and other austerity measures. Legislators on Wednesday will try to vote amendments to the bill before it goes to the Senate. The legislation could help President Michel Temer defuse a potentially bigger, state-triggered fiscal crisis that could scupper economic recovery.
Investors are closely watching the balance of power in Congress to gauge the government's ability to pass reforms, including a bill to cap pension outlays that is designed to bolster government coffers, investor confidence and economic growth. A report on the amended pension bill was being read on Wednesday at a special lower house committee, which is expected to vote on the proposal by the beginning of May, according to the committee's president Carlos Marun.
Earlier on Tuesday the government lost a vote in the lower house to fast-track its proposed labor reform. This month it has also seen a bill on ride-sharing apps such as Uber drastically amended by the opposition.
Strong opposition in the lower house to the crucial pension reform proposal forced the government to make several concessions in a bid to secure its approval. Finance Minister Henrique Meirelles said on Tuesday that the latest version of the bill will maintain around 80 percent of the initially expected savings.
States' Crisis
Under the bill approved in the lower house on Tuesday nearly-bankrupt states such as Rio de Janeiro, Rio Grande do Sul and Minas Gerais will be allowed to halt debt payments for three years in exchange for austerity measures such as the sale of public companies. All Brazilian states, including those three, had already benefited from a broader debt renegotiation deal signed last year with the federal government. 
In Rio, where the fiscal crisis is more dramatic, civil servants have yet to receive their salaries for the month of March. Rio Governor Luiz Fernando Pezao has been personally lobbying lawmakers in Brasilia for the approval of the bill. At home, the governor faces growing public anger over accusations of widespread corruption in the administration at a time when he is asking the legislature to cut on social programs and increase taxes.
The corruption investigations should continue but "can't stop the state from functioning," he told Globonews after the proposal was approved in the lower house.
— With assistance by Bruce Douglas
Before it's here, it's on the Bloomberg Terminal.
LEARN MORE