Zambia's Hichilema Accused of Plot Against Government
By
Opposition leader Hichilema's party denies the charge

Hichilema was detained on April 12 at home in capital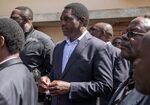 Zambian prosecutors accused the main opposition leader, Hakainde Hichilema, of plotting to overthrow the government, according to charges read out in the magistrates court in Lusaka, the capital.
Prosecutors allege that the leader of the United Party for National Development together with others planned to oust President Edgar Lungu's administration sometime between October 2016 and April 8, magistrate Greenwell Malumani told the court. The opposition party last week called the charges against Hichilema "trumped up."
"They are no more than political prisoners," Hichilema's lawyer, Vincent Malambo, told the court. Hichilema is being held in solitary confinement, he said. Outside the court, police fired tear gas to disperse supporters of the opposition leader.
Police detained Hichilema on April 12 after a night raid on his home, when they fired tear gas and broke down doors. The move marked a high point in tensions between the UPND and the ruling Patriotic Front since elections last year, which Hichilema called fraudulent and sought to challenge in the Constitutional Court. The U.S. and the European Union called for calm in separate statements last week.
Malumani ruled that the accused be moved from police cells to Lusaka Central Prison before adjourning until 9 a.m. on Wednesday.
— With assistance by Matthew Hill
(
Corrects spelling of president's name in second paragraph.
)
Before it's here, it's on the Bloomberg Terminal.
LEARN MORE