Your Evening Briefing
Here are today's top stories
Bloomberg News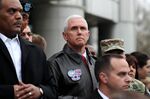 The evening briefing will soon be available in your inbox every day. To be among the first to get it, sign up here. 
North Korea's nuclear shadow loomed large over U.S. Vice President Mike Pence's visit to Asia, which was meant to focus on economic and trade matters with Japan and South Korea. Kim Jong Un's latest missile test on Sunday failed, but the menace of his ramped-up nuclear weapons program remains, underscored by the hardware Kim showcased in a recent North Korean military parade. The Trump administration is holding on to military action as an option to counter the threat. For now, the U.S. has gotten encouraging signs that China will act to pressure Kim on his nuclear ambitions, according to an official who spoke after Pence visited the heavily militarized zone separating the two Koreas.—Kristine Servando

U.K. Prime Minister Theresa May said she will seek an early election on June 8, in an unexpected gamble aimed at strengthening her hand going into talks on leaving the European Union. The surprise statement came less than a month after she triggered the formal start of Brexit and marks a reversal of her position before the Easter break, when her office insisted an early election wasn't on the cards.
They're Hong Kong billionaires on paper. In the past three years alone, perhaps as many as a dozen executives, many from mainland China, have amassed billion-plus wealth as their firms' share prices soared (9,800 percent, in one case), usually for no apparent reason. Trying to untangle the mystery of what's behind all this wealth takes you through one of the murkiest corners of Hong Kong finance: small-cap stocks. The executives and their companies haven't been accused of wrongdoing, but the phenomenon has raised flags for Hong Kong regulators.
Tycoon seeks to oust Jakarta's "rock star" governor. Businessman Sandiaga Uno once again is running the campaign of ex-general Prabowo Subianto in Jakarta's high-profile gubernatorial election after a failed attempt in 2015. Uno, who spent $6 million of his own money on the campaign, will soon find out if his strategy has proved successful this time around. Prabowo is neck-and-neck in polls with the incumbent governor, a key ally of Indonesia's president, as they head into Wednesday's runoff vote.  A victory would boost Prabowo as he weighs another run for the presidency in 2019. 
One of China's biggest dealmakers is making his biggest gamble yet. Richard Peng, the former Tencent deals chief best known for orchestrating the acquisition of ride-hailing service Didi, is striking out on his own and steering investments at Genesis Capital, which has raised more than $450 million in funds. The stakes are higher: While Peng maintains ties with his ex-employer, he can no longer dangle the prospect of Tencent's billion-plus users and enormous market clout to entrepreneurs. His war chest is a mere fraction of what he's accustomed to, and every mistake will count.
This venture capitalist wants Elon Musk to "dump Trump." And he's willing to spend millions for it. Doug Derwin, who once considered buying a Tesla as a way to protest the climate-change deniers he thought Trump represents, has launched a quixotic public campaign to force the Tesla CEO to sever all ties with the U.S. president. Derwin has secretly backed billboards that appeared in recent weeks near Tesla offices, plans to dissuade young engineers from working at Tesla or Musk's SpaceX, and says he's going to offer to pay people who sent in Tesla Model 3 deposits if they cancel their orders.
Vin Diesel and his crew of car racers can thank China for a high-octane boost. Universal Pictures' eighth installment of the "Fast and Furious" franchise, starring Diesel, Dwayne Johnson and Charlize Theron, fetched the highest ever three-day opening weekend in China, grossing $192.1 million, according to the studio. That was almost double its debut in the U.S. and Canada, where the movie fell short of estimates.
Good news, millionaires. London's luxury homes are getting cheaper. Home values in the British capital's most expensive boroughs fell in February. Kensington and Chelsea, where the average property price is about 2 million pounds, led the declines. With predictions that prices will fall in London this year, we're spotlighting five properties—from mansions equipped with with hydraulic carports and wine cellars to multiple-bedroom townhouses—that recently cut their asking prices by more than 10 percent.

Before it's here, it's on the Bloomberg Terminal.
LEARN MORE