Why Lean In Doesn't Want to Talk About Trump
Sheryl Sandberg's group is doubling down on its nonpartisan take on glass-ceiling feminism. Is that enough to keep it relevant?
By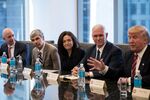 The Real Estate Development & Finance Lean In Circle meets every month or so in New York. For two years, its members have discussed the sexism they face in the industry, from being asked to take notes in meetings or babysit the boss's kids for $25 an hour to finding their careers derailed after pushing for a promotion.
It's all under LeanIn.Org's banner of workplace equality for women of every economic and political stripe. The national organization makes it crystal clear: These dialogues are about empowerment and advancement, not partisan politics.
Then Donald Trump was elected president. The real estate group's members had felt a Hillary Clinton victory "would have opened a window of hope—that if you work hard enough and you are qualified enough, you can get there," said Berta Willisch, founder of the 141-member circle. The election of a man who had spoken vulgarly of women and vowed to undo the abortion rights guaranteed them by the Supreme Court dashed those hopes, she said, opening up the circle's discussions to what the women should do to protect themselves from the new administration.  
Others are turning to activism beyond their Lean In circles. Andrea Curreri, the president of Bluff Manufacturing, a logistics company, said the Fort Worth, Texas, circle she led is defunct. She's involved in other networking groups and, since the election, has joined Indivisible, whose aim is to "fight the Trump agenda."
Across the country, more American women are participating in activism than has been seen in decades. The day after Trump's inauguration, millions marched worldwide, and more women than ever are pursuing elected office. Groups such as Emily's List and VoteRunLead report unprecedented interest in candidate training programs since the election. 
This could be Lean In's moment to advance its cause after what its own founder, Facebook Inc.'s Sheryl Sandberg, has described as a largely unsuccessful bid to advance women's careers. The nonprofit group, which claims more than 32,000 circles in 151 countries, already has the infrastructure for organizing. Its easy-to-use online platform can help women find nearby circles that organize around job types, industries, or regions. 
But Lean In, which Sandberg founded four years ago on the success of her manifesto of the same name, says it is determined to remain nonpartisan—without clearly articulating the line between the partisan and the merely political, or the political and the professional, or how it intends to walk that line. At a time when national politics (experienced woman loses top job to less experienced, more aggressive man) mirrors the struggles that led many professional women to Lean In in the first place, most of the organization's circles are still engaged in consciousness-raising for a new generation. The issues they tackle, which range from subtle slights to career-critical discrimination, can be vital to women's success, but it is increasingly difficult to see them as separate from the broader national discourse.
"The dire threat that women face is not the possibility that women won't make it into the C-suite," said Terry O'Neill, president of the National Organization for Women. "It's the possibility that we will die from an unsafe abortion." 
Take Lean In's annual public awareness campaign this spring, which was designed, as in years past, to be inoffensive. An equal-pay initiative asked businesses to offer a 20 percent discount for Equal Pay Day. Women in Lean In circles helped get retailers on board, reaching out to companies in their communities, armed with special instructions should businesses ask about their agenda.
"This campaign is non-partisan, and LeanIn.Org is a non-partisan organization," members were to say, according to materials reviewed by Bloomberg. The literature warned, "No materials or other elements of the local campaign should be affiliated with a specific political party. You should not propose or promote a specific proposal or piece of legislation as part of your local campaign."
Willisch, the real estate circle founder and a development manager at Avery Hall Investments, didn't participate. "I have such a tough job already," she said.
Rachel Thomas, Lean In's president, acknowledged in an interview that "as individuals, we all have pretty strong belief systems" and that "everyone was feeling the election." But she stressed that "as an organization, we are nonpartisan and committed to that," believing gender equality and women's leadership transcend politics.
It's a difficult position to maintain as employees demand political statements and action from their chief executive officers, and companies trip over themselves to remain politically neutral, only to fail spectacularly. 
For many women, Clinton's electoral loss reflected how little progress women have made in the workplace as well as the shortcomings of Lean In's personal empowerment brand of feminism, which asks women to see to their own professional achievement by "leaning in" and taking personal stands on structural sexism in the workplace. Want a raise? Ask. Want to be heard? Speak up. It doesn't jibe naturally with a moment in which women fear losing their reproductive rights, protections against sexual harassment, or their ability to report domestic violence without risking deportation.
Navigating this new world has been something of a high-wire act for Sandberg, who chairs Lean In's board and acts as the face of the brand. Since the 2013 publication of her book, Lean In: Women, Work, and the Will to Lead, she has embraced her role as a modern feminist icon with mass appeal. Shortly after the book shot up the bestseller list, she created Lean In, with the broad mission to "empower women to achieve their ambitions." Sandberg, Facebook's chief operating officer, doesn't take a salary from Lean In and donates all her profits from the book to the organization, in addition to making personal contributions. 
Given the feminist brand she has built over the past four years, Sandberg has faced criticism for saying so little about women's issues since the election, particularly the Women's Marches. After a post on Nov. 10 urging readers to "recommit ourselves to leaning in," she stayed mum on politics for three months. Technology watchers noticed, and Sarah Lacy, who founded the tech blog Pando, called her out in a searing and widely read post.
"So having voluntarily taken on this cause—and let's face it, benefitted from [that] in many ways—Sandberg must be well positioned to be a leader in this precise moment of feminist consciousness, right?" Lacy wrote. "Uh, wrong. Since November, I've heard one phrase uttered over and over by senior women in the Valley: 'Why isn't Sheryl saying anything about this?' "
Since then, Sandberg, who didn't respond to an interview request for this article, has said she "felt bad" and regrets not writing about the Women's Marches in Facebook posts. She revealed a $1 million donation to Planned Parenthood and made public statements against President Trump's executive orders on immigration and refugees. 
Statements by Lean In's founder don't suggest an organization-wide political coming-out, said Thomas, the president. "We're all a group of individuals working for an organization. We're all going to stand up for things we believe in and participate in the process where it feels comfortable to us and where it makes sense," she said. "You're going to see Sheryl speak out on issues she's passionate about, and you're going to see Lean In continue to double down on the work that we're doing." 
The strategies Lean In champions haven't solved women's inequality in the workplace, and they can backfire. A study last year by the group and McKinsey found that those who lean in can be penalized for it. Since the book came out, Sandberg has admitted that women in general aren't better off and that her philosophy doesn't work for those, like single parents, who lack the privilege of leaning in.
"The reality is there are systemic issues that have to be addressed that are bigger than one woman," said Lisa Maatz, the vice president of government relations at the American Association of University Women, a nonprofit group that promotes education and equity for women. "Sheryl Sandberg's analysis came out during a presidential administration that was not just friendly to but supportive of women in the workplace. In the Trump era, there is much more of a collective sense that what I do cannot only help me, but help others." 
Some women have fallen away from the group altogether. Olivia Jovais, a senior account manager at Google, said her Lean In circle at work has an attrition problem. "For whatever reason, it seems like people don't prioritize it," she said. Less than a half-dozen members show up to the meetings, where women discuss career development at the company. "I think people are busy," she said.
Since the election, Lean In says, it has heard from members that circles are more important to women than ever. Thomas said it's adding circles at an all-time-high rate of 100 a week, calling it "a surge in momentum." She said Lean In excludes circles from its count when it learns they are no longer active but can't track all the circles because they're run by women around the world.
In January, instead of meeting, many of the women in Latina Surge, a New York-area circle, attended the Women's March in Washington.
"It's time," said Elisa Charters, its founder. "People are tired of just talking about it. We need to see action."  
Before it's here, it's on the Bloomberg Terminal.
LEARN MORE