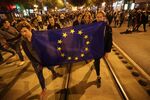 Hungarians have taken to the streets in their tens of thousands over the past two weeks in the most sustained wave of protests against Prime Minister Viktor Orban since he returned to power in 2010. The self-described champion of an "illiberal state" modeled on Russia and Turkey has challenged the European Union's core democratic ideals. His latest move pits him against one of Hungary's most famous emigres: billionaire George Soros.
1. What triggered the protests?
The government in Budapest rushed through parliament an amendment to a law regulating foreign colleges on April 4. Central European University, founded by Soros in 1991 to train a new generation of democratic leaders following decades of communism, says the rules are a thinly veiled attempt to drive it out of the country. Protesters say the legislation is not only an attack on CEU, but a crackdown on academic freedom and, along with a bill targeted at foreign-funded civil society groups, is part of Orban's rollback of western-style democracy.
2. How significant are they?
The public demonstrations have been the largest against Orban and the biggest in Hungary since the fall of 2006, when weeks of street demonstrations erupted after the prime minister at the time was caught on tape saying that he had lied to get re-elected. Unlike the peaceful protests so far against Orban, those turned violent. The state television headquarters in Budapest were set on fire and Molotov cocktails thrown at police, who fired rubber bullets and tear gas as Orban addressed crowds at nearby anti-government rallies. The leadership survived, though was wounded and lost the next election to Orban.
3. Why did Orban risk it?
Soros is a favorite bogeyman for Orban because he embodies the "open society" and global elite he rejects, especially when it comes to issues such as immigration. Orban was the staunchest opponent of German Chancellor Angela Merkel's open-border policy in Europe, having built fences on the southern border to keep refugees out. That boosted his popularity in the polls.
4. Has Orban's popularity suffered?
Orban has centralized power, passed a new constitution over opposition protests and extended his influence over independent institutions and the media. While critics argue Hungary is turning increasingly authoritarian, he says he's catering to popular demands for stability at a time when traditional politics in Europe and the U.S. is being upended. His governing Fidesz party leads all opinion polls a year before the next election, keeping Orban on track to win a fourth term. The economy, helped by billions of euros in EU funding, is growing and wages are rising, partly due to a labor shortage from the exodus of workers to higher-paying jobs in western Europe. The opposition is splintered and doesn't look capable of mounting a challenge.
5. How's this playing abroad?
The EU has increasingly struggled to enforce democratic values on members. Hungary, along with Poland, has become a prime example. The European Commission urged a "broader political dialogue"' on Hungary and pressure is building on the European People's Party, the largest in the European Parliament, to expel Fidesz. Under Barack Obama, the U.S. was critical of Hungary and Orban publicly backed Trump's campaign when few thought he'd end up winning. So far Trump's officials have maintained a tough stance on Orban and have called on him to suspend the law targeting CEU.
6. So what's next?
For now, the protests have been largely restricted to Budapest, though last week small demonstrations were held in several other cities. There's also widespread anger about alleged corruption among the country's elite. Whether Orban's illiberal agenda has peaked and whether Hungarians can find a political alternative will all be answered over the next year. Previous demonstrations against Orban fragmented and fizzled because they had no united organization behind them. So far, neither do the latest protests.
The Reference shelf
A QuickTake Q&A on what makes a populist leader.
A 2014 Bloomberg interview with Orban, where he talks about "illiberal democracy."
A 2015 Bloomberg Businessweek story about how Orban became Europe's "new strongman."
Bloomberg stories on how Soros's CEU became a battleground and on how cronyism is damaging Hungary's economy.
An op-ed in the Guardian newspaper by Oxford University professor Timothy Garton Ash.
Quotes from this Article
Before it's here, it's on the Bloomberg Terminal.
LEARN MORE