Volkswagen Profit Jumps as Diesel-Scandal Recovery Accelerates
By
Delivery growth of Tiguan SUV, cost reductions helped profit

VW brand's turnaround fueled auto group's earnings gain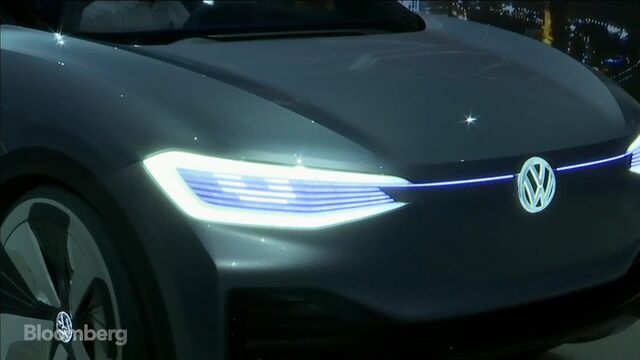 Volkswagen AG posted first-quarter earnings that beat analysts' estimates as new models and spending cuts helped the German carmaker's namesake brand recover from its emissions-cheating scandal.
Operating profit totaled about 4.4 billion euros ($4.7 billion), "significantly higher than market expectations," the Wolfsburg-based manufacturer said Tuesday in a statement. That would be 28 percent higher than the year-earlier figure and about 20 percent more than analysts were predicting. The improvement was fueled by surprisingly robust earnings at the VW brand, which surged more than 12-fold to about 900 million euros.
"This bodes well, as the margin of the VW brand is likely to remain investors' key point of focus and where the company is under most pressure to demonstrate improvement," Kristina Church, an analyst at Barclays Plc, said in a report to clients.
Volkswagen has been working to lift profitability to absorb the financial hit of a scandal that erupted in September 2015 after the company admitted it rigged diesel vehicles to manipulate emissions tests. The damages so far have totaled 22.6 billion euros, and its recovery strategy includes cutting costs at the VW car brand as well as adding sport utility vehicles and developing a new line of electric models.
The updated Tiguan sport utility vehicle and cost reductions helped the VW brand generate a margin of about 3.5 percent, according to an estimate from Evercore ISI. That level approaches a 2020 target of 4 percent and indicates that Volkswagen's efforts to turn around its largest unit are progressing faster than expected.

The carmaker's shares rose 4.4 percent to 136.95 euros in Frankfurt, the biggest jump since Jan. 9. That pushed the stock to a 2.7 percent gain this year, valuing the manufacturer at 69.6 billion euros. 
Improving profitability at the VW brand is critical to the group's recovery. While the division reached a landmark labor deal in November to reduce costs by 3.7 billion euros and cut as many as 30,000 jobs, restructuring has been complicated by repeated spats between VW's powerful works council and brand chief Herbert Diess.
While Volkswagen reiterated a forecast that its overall return on sales will be in a range of 6 percent to 7 percent in 2017, Evercore ISI said the company would likely raise the target if operations perform as well in the second quarter.
The manufacturer is the second German carmaker in a week to announce earnings earlier than planned because the figures exceeded analysts' predictions. Daimler AG said April 11 that first-quarter earnings before interest and taxes almost doubled because of surging demand for its Mercedes-Benz E-Class sedan. 
Volkswagen is scheduled to report full quarterly figures on May 3. Its statement on Tuesday didn't provide spending numbers or a detailed breakdown by division. 
Quotes from this Article
Before it's here, it's on the Bloomberg Terminal.
LEARN MORE