France Arrests Two Planning Attack During Election Campaign
By and
Interior Minister Fekl says men were detained in Marseille

The 'violent' attack was timed for the presidential race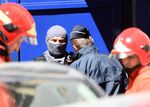 French security authorities arrested two men in the southern city of Marseille for planning an attack during the presidential race, Interior Minister Matthias Fekl said.
In a televised statement, Fekl said, the men, born in 1987 and 1993, are French citizens and had turned to radical Islam during a stay in prison.
The two men were preparing to commit "in the very short term an attack on French soil," Fekl said, adding that it would have been an "imminent violent action."  
 
The arrests come five days before the French go to the polls in the most uncertain French presidential election in the country's recent history -- almost a third of the electorate is still undecided and the four front-runners are clustered around 20 percent in the polls for the first ballot. With two of the four candidates also hostile to the institutions of the European Union, the result of the May 7 runoff will have far-reaching implications not just for France but for the region as a whole.
France has been under a state of emergency since November 2015, when gunmen killed 130 people in attacks on a concert hall and other sites in Paris. The upcoming election will be the first since 1965 -- when the current voting system was put in place -- to be held under emergency laws.
Islamic State Flag
France Info radio reported earlier that security services found a photo taken by one of the suspects showing an assault rifle, ammunition, an Islamic State flag and a Le Monde newspaper front page showing Republican candidate Francois Fillon.
Paris prosecutor Francois Molins said at a press conference that the two men shared a jail cell in 2015 and were on an anti-terror watchlist. The police found an Uzi, two handguns, three kilos of explosives, an Anonymous-type mask and a Islamic State flag at the Marseille apartment the men were renting, Molins told reporters.
They were planning "a violent action imminently in France without it being possible to determine which day it would take place or which would be the targets," Molins said.
Security details protecting France's presidential candidates were bolstered late last week after intelligence services were said to have picked up on an imminent threat. About 50,000 security personnel will be deployed on the two days of voting, Fekl said.
'Well Secured'
"Everything will be done to ensure the presidential campaign, the rallies, the parties' headquarters are well secured," he said. "Everything will be done to ensure the security of the election."
The Journal du Dimanche newspaper was first to report on the heightened security measures on Sunday, which were confirmed to Bloomberg by the campaign teams for Marine Le Pen of the National Front, and centrist Emmanuel Macron. An aide for Le Pen described the threat as very "precise."
Campaigning continued as normal. Macron visited the wholesale food market that serves Paris on Tuesday morning, after addressing a crowd of more than 20,000 in the French capital the evening before. Le Pen faced a smaller gathering in an auditorium in Paris on Monday and will be on an evening television news show. Communist-backed Jean-Luc Melenchon, who sailed through the center of the capital on a barge on Monday, will be addressing rallies in at least seven cities on Tuesday, using holograms for six of them. Fillon held a rally in Nice on Monday and is holding another on Tuesday in Lille.
Top Issues
While polls have shown jobs and the economy as the top issues, terrorism and security have also been major themes in the election, pushed particularly by Le Pen, who wants to restrict immigration and tighten rules for acquiring French citizenship.
Socialist President Francois Hollande, whom Fillon has accused of masterminding a plot against him, deplored the campaign's lack of substance in an interview Sunday evening with French TV France 5.
"What is talked about in this campaign? Legal cases, charges, so-called secret cabinets," said Hollande, who opted last year not to seek a second term as his approval rating plumbed record lows. "Events are put together, but where are the useful comparisons?"
While French voters have consistently showed up en masse for presidential elections in the past -- participation averages 80 percent over the past 50 years -- current projections show a good third of registered voters may stay home on April 23. According to Elabe, only 68 percent of the French are certain of casting their vote.
(Updates with comment from Paris prosecutor)
— With assistance by Geraldine Amiel, and Gaspard Sebag
Before it's here, it's on the Bloomberg Terminal.
LEARN MORE