These Charts Explain Why May Is Seeking Another U.K. Election
By and
May wants to strengthen her hand going into Brexit talks...

...but runs the risk of an anti-Brexit coalition taking shape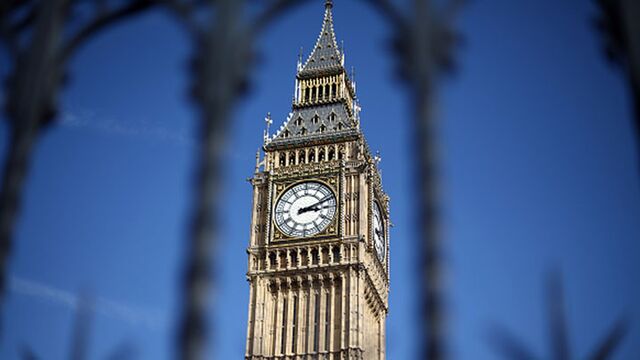 Prime Minister Theresa May's shock announcement to seek an election on June 8 may send voters back to the ballot boxes just 12 months after the Brexit referendum and only two years since the last general vote. And while the decision marks a reversal from her office's earlier pledges, these charts show how the prime minister's gamble might pay off.
Buoyed by opinion polls
Voting intentions have been running in May's favor since she became prime minister last summer, but it's only in the past few weeks that the extent of Labour Party leader Jeremy Corbyn's weakness has become clear. A YouGov Plc poll conducted April 12-13 gave May's Conservatives a gaping 21 percentage-point lead over Labour.


In need of more lawmaker support
With a working majority of only 17 in the 650-seat House of Commons, not enough to ensure her Brexit talks won't be upended by rebellious Tory lawmakers, the chance for May to pad her position was too good to miss.


May's gamble could lead to a parliamentary windfall
If the polls are correct, May could be looking to win 400 seats and a majority of 150, according to the Electoral Calculus website. That could hand her the biggest majority since Tony Blair's 2001 victory and possibly even more seats than Margaret Thatcher in the early 1980s. Current levels of support would see the Tories gaining about 70 seats and Labour losing a similar amount, assuming the changes are distributed equally across the U.K.


Risks abound...but the opportunity is too good to pass up
While the referendum only passed by 52 percent to 48 percent, a constituency-by-constituency breakdown shows that 421 of the 574 districts in England and Wales probably voted to leave. That's an indicator of how strongly the electoral map favors the pro-Brexit camp. Still, Britons will choose lawmakers in individual constituencies, and with Labour having accepted that Britain is leaving the EU, there may be a chance for the anti-Brexit Liberal Democrats to win in "Remain" areas such as Twickenham in southwest London or Bath in western England. That's a risk that May is willing to take.

— With assistance by Samuel Dodge
Before it's here, it's on the Bloomberg Terminal.
LEARN MORE