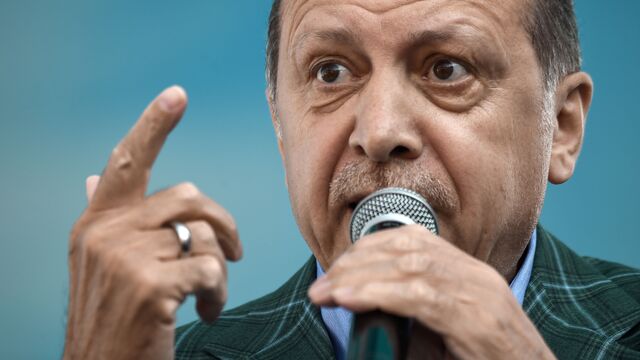 The narrow victory of a historic referendum to centralize power in the hands of Turkish President Recep Tayyip Erdogan has been tarnished with allegations of fraud. Opposition parties are challenging the vote, which saw 51.4 percent of Turks approve the measures, and international monitors have disputed its fairness. According to unofficial results, the margin of victory for the package of constitutional changes was just shy of 1.3 million ballots. As Erdogan insists he won't tolerate criticism of the outcome, his opponents are demanding a recount or outright annulment, leaving concerns about the integrity of the vote.
1. Could the vote be overturned?
It doesn't look very likely. A result of a national vote has never been annulled in the 93-year history of the Turkish republic. Erdogan has also openly dismissed domestic and foreign critics of the vote.
2. What prompted fraud allegations?
In the final hours of voting on April 16, Turkey's High Election Board waived a legal requirement to invalidate ballots that aren't properly stamped, explicitly contravening Article 98 of Turkey's 2010 electoral law. The main opposition party, the Republican Peoples' Party known as CHP, said the decision paved the way for results to be rigged. The pro-Kurdish HDP party went further, saying the number of votes cast by its constituents at polling stations in Turkey's south-east was higher than the number later registered by the election board.
3. How many ballots were affected?
It's hard to say. The election board didn't do an official count of the ballots that weren't stamped, according to its head Sadi Guven. He acknowledged that each ballot and the envelope containing it should be sealed, but said the responsibility for doing so lies with polling station officials and voters shouldn't be punished for their oversight if there wasn't evidence of fraud.
4. What do opposition parties want now?
They want a recount to determine the number of unstamped ballots, and whether these ballots disproportionately favored the "Yes" outcome. The CHP is collecting evidence before officially contesting the results with the election board and wants to eventually take the fraud allegations to Turkey's top court. The HDP, for its part, claims votes from about 1,000 ballot boxes, representing as many as 250,000 voters, weren't accurately entered into the official tally. It wants the election board to annul the referendum results.
5. What do international observers say?
The Organization for Security and Cooperation in Europe led a mission to monitor the referendum, but said some of its observers were impeded from getting access to polling stations. It said the circumstances of the vote amounted to an "unlevel playing field" because the polling took place during a state of emergency imposed after a coup attempt last July. Erdogan has restricted freedom of speech and assembly since then.
The Reference Shelf
Before it's here, it's on the Bloomberg Terminal.
LEARN MORE