business
Squabble Over U.K.'s Brexit Bill Easing, Ireland's Noonan Says
By and
Negotiating positions on bill softening, finance minister says

U.K. election could allow May to shuffle her team, Noonan says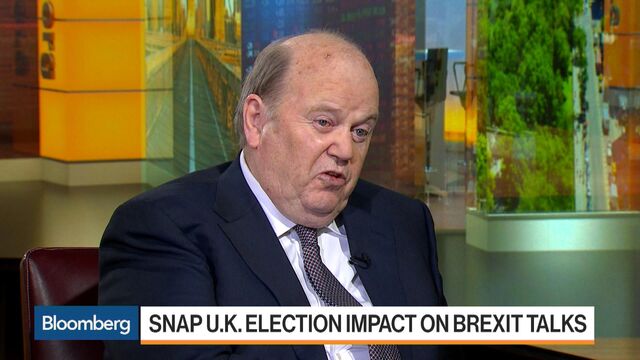 The U.K. and European Union's negotiating positions on Brexit are softening, Irish Finance Minister Michael Noonan said, raising the prospect of the two sides holding talks on future trade relations and other issues alongside the so-called divorce proceedings.
There are "certainly indications of a compromise position" where some issues will be dealt with in parallel with the primary negotiations between Britain and EU, Noonan said in a Bloomberg Television interview in New York on Tuesday.
The original positions were deadlocked because the European stance was divorce first and settlement later, while the British position wanted the two to run in tandem or in parallel, Noonan said. The two sides "have softened anyway," he said.
The apparent easing of tension may help defuse a row over how much Britain will be charged to leave the bloc, after EU leaders suggested that the exit bill may be as much as 60 billion euros ($64 billion). The EU's demands are "an opening gambit in what will be a long and complicated negotiation," U.K. Chancellor of the Exchequer Philip Hammond said April 18.
Noonan said while it isn't yet clear how U.K. Prime Minister Theresa May's decision to call an early election on June 8 will affect talks on Brexit, a stronger mandate may allow her overhaul her cabinet.
The Conservatives have a 21-point poll lead and May -- who became prime minister without an election -- is betting she can extend the slim parliamentary majority her predecessor won in 2015. May said the existing schedule for an election in 2020, just after the deadline for an exit deal with the EU, posed a threat to a successful Brexit. The pound strengthened to the highest this year.
Before it's here, it's on the Bloomberg Terminal.
LEARN MORE