Senate Democrats in Trump States Double Fundraising Pace
By and
Contests in 10 states president won among most closely watched

'Riled up' Democratic donors are helping fill party's coffers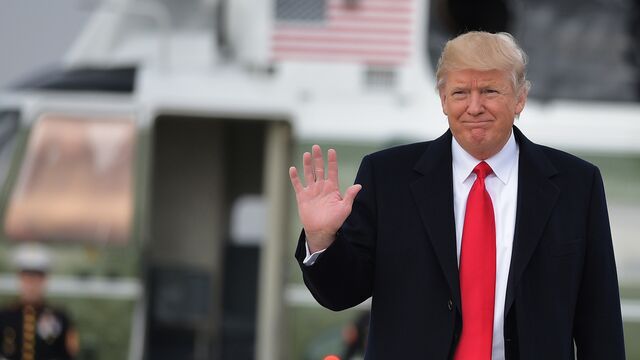 Senate Democrats who may face the most challenging 2018 re-election contests are building robust campaign bank accounts as they benefit from an outpouring generated by the party's desire to challenge President Donald Trump.
The 10 Democrats expected to defend seats in states that Trump won in November collectively raised about $18.8 million during the first three months of the year, based on information from the campaigns and public records. That's more than double the $8.3 million they netted in the same quarter six years earlier. The group's total campaign bank balance is about $32 million, up from $17.4 million at this time in 2011.
"There are a lot of riled up Democratic donors out there right now and it's a good time to hit them up for money," said Robert Boatright, a political science professor at Clark University in Worcester, Massachusetts.
It's easier for the senators in states Trump won to raise money because Democratic donors are already focused on 2018, and holding those Senate seats is critical to their aims, said Bob Biersack, a senior fellow at the nonpartisan Center for Responsive Politics.
But the Democrats' early surge won't necessarily deter any Republican challengers, said Biersack, a 30-year veteran of the Federal Election Commission.
High Stakes
"Republicans aren't going to be scared off by a big war chest," he said. "They have evidence from 2016 that they have a chance."
Republicans also recorded strong fundraising in the first quarter, including by House Speaker Paul Ryan and Trump's 2020 re-election campaign.
Senator Ted Cruz of Texas, one of Trump's 2016 presidential primary rivals, reported raising $1.7 million and had $5.2 million cash on hand. That compared to $942,885 and $965,153 in the first quarter of 2011.
The stakes will be high for both parties in 2018. Republicans, who control 52 of the 100 Senate seats, can gain a filibuster-proof majority if they win eight more. Democrats will have their first major opportunity to challenge Trump at the polls.
Each side has its disadvantages. The party in power traditionally loses seats in a new president's first midterm election. But Democrats have more Senate seats to defend; 34 will be up for grabs, and 25 of them are held by Democrats and two allied independents. Democrats may be aided if Trump's approval rating remains at the historically low levels set during his first few months in office.
Missouri Race
Among the 10 Senate Democrats in states Trump won, Senator Claire McCaskill of Missouri appears to have raised the most during the quarter. Her campaign reported collecting $2.8 million and having $3 million in the bank.
Republican Congresswoman Ann Wagner, a potential McCaskill opponent in 2018, reported raising $804,264 and had $2.8 million in her campaign account. McCaskill is viewed as a top target for Republicans because Trump won the state by 19 percentage points.
In Pennsylvania, which Trump carried by 1 percentage point, Senator Bob Casey's campaign said he'd raised $2.7 million. Three Republicans have officially declared their candidacy, including a state legislator and a county commissioner who served as a delegate for Trump. In 2016, the Senate race in Pennsylvania between incumbent Republican Pat Toomey and Democrat Katie McGinty saw a record $166.7 million spent, including $119.6 million by independent groups.
Ohio Cash
Senator Sherrod Brown of Ohio, where Trump's victory margin was 8.6 percentage points, reported collecting $2.4 million. Brown has $5 million in the bank, twice as much as he did at this point six years ago. His opponent then was Republican state Treasurer Josh Mandel, who's running again and who already has $2.4 million cash on hand after raising $1.1 million in the first quarter, according to FEC filings provided by his campaign. Mandel might face a contested primary against Representative Pat Tiberi, who raised $1.4 million in the first quarter of 2017 and has $6.3 million in his campaign fund, FEC records show.
Senator Bill Nelson reported an account balance of $3.6 million. Florida is the largest state and has the most media markets among those surveyed for this story.
In one of the states with the fewest media markets, North Dakota's Democratic Senator Heidi Heitkamp reported raising $1.6 million during the quarter and has about $2 million in the bank. She wasn't an incumbent six years ago.
Senator Joe Donnelly of Indiana, who also first won his seat in 2012, raised $1.3 million and had $2.6 million in the bank. Another senator among the 10 Democrats running for a second term, Tammy Baldwin of Wisconsin, raised $2.2 million and had $2.5 million cash on hand.
Biggest Margin
Senator Joe Manchin of West Virginia raised the least among the 10 Democratic senators in Trump states. He pulled in $552,576, compared to $528,700 six years ago. He ended the quarter with $2.2 million in the bank, up from $861,125 in 2011. Among the 10 states, Trump won his biggest margin in West Virginia, 42 percentage points.
Democratic Senator Debbie Stabenow of Michigan, where Trump had his narrowest victory among the 10, raised $1.3 million and had $4.3 million in the bank. That's up from $1.1 million and $3 million in 2011.
In Montana, Democratic Senator Jon Tester has more than twice as much in his campaign account as he did six years ago. His campaign said he raised $2 million during the quarter and has $3.2 million in the bank. Trump won that state by 20.5 percentage points.
Campaign-finance rules don't require Senate candidates to submit their fundraising data online, unlike House candidates, so most of the totals for the quarter were provided by campaigns. The process of mailing and digitizing the reports often means the official records aren't available until about a week after the filing deadline.
Tester's campaign said he would file his report electronically because he "believes in transparency." He's also introduced legislation requiring members of the Senate to file online, something his campaign says would "save taxpayers hundreds of thousands of dollars a year."
Before it's here, it's on the Bloomberg Terminal.
LEARN MORE