Novartis Predicts Chinese Drug Market Growth Will Accelerate
By
Market may cross $300 billion in sales by 2020, CEO says

Drugmaker says FDA pick Gottlieb wants to boost competition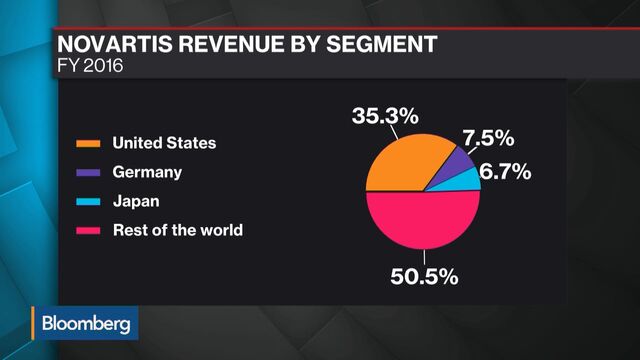 Swiss drugmaker Novartis AG expects growth in China's pharmaceuticals market to accelerate as the nation's health authorities expedite approvals for new medicines and increase reimbursement.
The Chinese pharmaceutical market may exceed $300 billion in sales by 2020, Chief Executive Officer Joe Jimenez said in an interview in Geneva on Tuesday. The country is now the world's second-biggest pharmaceutical market, behind the U.S.
"They recognize they have a population that really wants to be part of getting access to health care and new medicines," he said. "They're starting to bring down those barriers."
While foreign companies have historically had to wait several years to bring treatments already approved in other countries into China, the country is speeding up its review of new medicines to combat increasing rates of diseases like cancer and hepatitis.
First Discovery
Novartis's drug Votrient, for a form of kidney cancer called advanced renal cell carcinoma, and its medicine Jakavi, for myelofibrosis, have received Chinese approval in the last couple of months, the company said in an email. The China Food and Drug Administration has also approved AstraZeneca Plc's Tagrisso for lung cancer and Roche Holding AG's melanoma drug Zelboraf in recent weeks.
At the same time, China is aggressively trying to rein in health-care costs and drive down drug prices. The government last year announced that it had negotiated price cuts of more than 50 percent for three medicines, including the hepatitis drug Viread, later placed on the national insurance list for reimbursement.
An "innovative" pharmaceutical industry also is starting to emerge in China with scientists returning to the country from the U.S. and new biotech companies sprouting, though it will take time to develop, Jimenez said. Novartis has more than 300 scientists in China working on illnesses that are prevalent in the country such as liver disease and stomach cancer, and "there are many new molecules we're working on," he said, declining to elaborate.
Novartis's first drug discovered by its scientists in China, a medicine for nasopharyngeal carcinoma, has entered early clinical trials, Jimenez said in a LinkedIn post last month.
Boost Competition
In the U.S., Scott Gottlieb, President Donald Trump's pick to lead the U.S. Food and Drug Administration, is a "good choice," Jimenez said.
Gottlieb "wants to accelerate drug development in the U.S. and reduce some of the excess of regulation, but at the same time he recognizes the need to increase competition," according to the CEO.
Some biotech drugs in the U.S. have lost patent protection, but still don't face competition from cheaper copycats, Jimenez said. One drug Novartis is awaiting approval on, a version of Teva Pharmaceutical Industries Ltd.'s multiple-sclerosis injection Copaxone, could save the U.S. healthcare system almost $1 billion a year, he estimated.
Before it's here, it's on the Bloomberg Terminal.
LEARN MORE