Noble Group Says Listing Top Execs' Pay Would Hurt Its Standing
Bloomberg News
'Sensitivity and confidentiality of remuneration matters': co.

Noble responds to query from exchange on data in annual report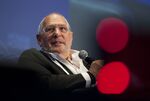 Noble Group Ltd., the embattled commodity trader that's seeking to find a replacement for Chairman Richard Elman, has pushed back against guidelines in Singapore for disclosing information on executives' remuneration, saying that to do so would put the company at a disadvantage.
"Many of the company's competitors are private and do not publish remuneration information, and the general sensitivity and confidentiality of remuneration matters," Noble Group said in a statement to the Singapore stock exchange on Tuesday, responding to a query on the data listed in its most recent annual report. Following a local code, which recommends a company list remuneration to the top five management executives in bands of S$250,000 ($179,000), would "be disadvantageous," it said.
The Hong Kong-based trader has been seeking to emerge from a punishing two years marked by losses, credit-rating downgrades and asset sales during the commodities rout, with founder Elman preparing to make way for a replacement. In the annual report, while Noble Group noted that the top five key management executives earned S$1.5 million or above, it didn't give a more detailed breakdown.
"The company would like to clarify that the remuneration of the company's top five key management personnel had been presented in the manner set out on page 40 of the annual report taking into consideration the highly competitive industry conditions," the company said in the statement, released after trade ended on Tuesday.
In the forward to the annual report -- released in March -- Elman combined an admission that missteps were made with optimism in the outlook. "The last 12 months have been a particularly challenging period," Elman wrote. "I believe that we have now taken the key initial actions to correct these mistakes."
— With assistance by Jake Lloyd-Smith
Before it's here, it's on the Bloomberg Terminal.
LEARN MORE