Hunt Says Bet on China, Europe Rather Than Trump Meeting Targets
By and
Head of PGIM sees reason for optimism in global economy

It wil be 'extremely hard' to meet Trump's goals, he says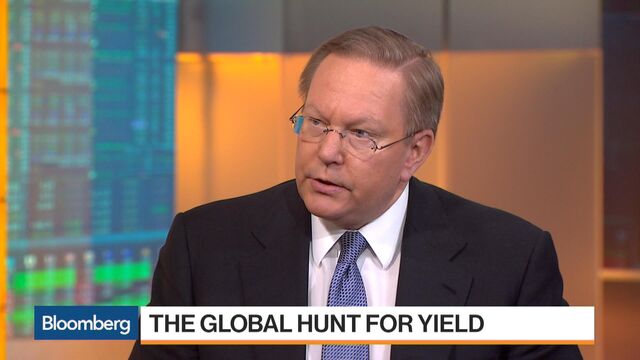 David Hunt, chief executive officer of Prudential Financial Inc.'s $1 trillion asset manager PGIM, recommends looking for opportunity outside the world's largest economy because U.S. markets may have overestimated the ability of President Donald Trump to meet his growth targets.
"When you look at what's happening in China, when you look at what's happening in India -- actually, even the European Union did slightly better than we thought -- there is reason for optimism in the global economy now," Hunt said Tuesday in an interview on Bloomberg Television. "And we are putting money to work behind that."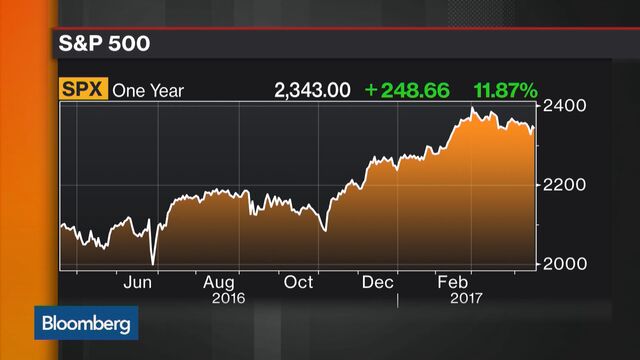 Trump said in his campaign that he'd revive growth to 3 percent or more, promising to boost infrastructure spending, reduce regulation and lower taxes. That led to a surge in stock prices in the months after his election, but the rally has stalled in recent weeks as the president struggled to win approval for some of his plans. The gross domestic product will expand by less than 2.5 percent annually through 2019, according to the average projection in a Bloomberg survey of economists.
"Markets had clearly gotten ahead of themselves in pricing in a lot of these changes, which are going to be very complicated and difficult, in our view, to carry out," Hunt said. "It's going to be extremely hard to jump-start the U.S. economy to the kinds of growth rates that the administration was talking about."
Structured Products
Hunt said that while growth in the U.S. is fine, investors need to "readjust" to the idea that markets were overly optimistic. He doesn't expect much of an increase in long-term bond yields, even if the Federal Reserve raises interest rates, and sees opportunity in fixed income markets.
The yield on the 10-year Treasury fell to 2.18 percent as of 2:43 p.m. in New York, extending the decline of recent weeks. That compares with more than 2.6 percent in the second week of March.
"We're very bullish on structured products," Hunt said. "We see a lot of places actually to continue to take advantage of the fact that we will have robust economics, even if they're not quite as good as the market had originally hoped."
— With assistance by Scarlet Fu
Before it's here, it's on the Bloomberg Terminal.
LEARN MORE