business
Follow $17 Trillion of Fund Money to See Reflation Trade Retreat
By
Flows into U.S. equities decline, while munis see wave of cash

'People want to see something tangible,' EPFR's Brandt says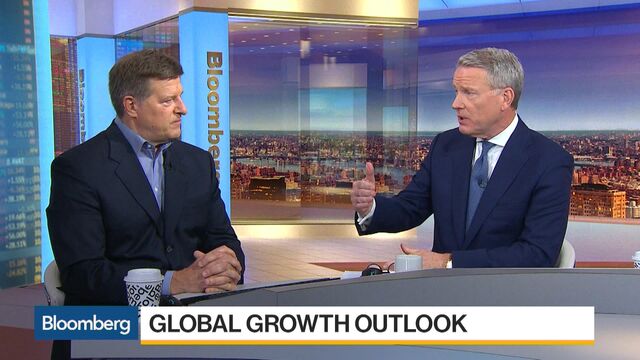 The flow of money in the $17 trillion mutual-fund industry in recent weeks is signaling that investors across asset classes are increasingly skeptical of the reflation trade.
From global equities to U.S. municipal debt, fund flows have changed course relative to the post-election stretch when investors wagered that stronger growth and inflation would lift stocks and bond yields. Instead, the S&P 500 index is coming off its first two-week slide since January, while 10-year Treasury yields are close to the lowest level since November. Amid the shift in sentiment, Goldman Sachs Group Inc. abandoned recommendations to go long the dollar against the euro, sterling and yuan.
The reflation theme hinged in large part on the assumption that the Trump administration would enact its fiscal promises, most notably tax reform. That hasn't happened, and traders are losing confidence in progress on that front after the failure of health-care legislation, and as geopolitical tensions divert the attention of the president and Congress.
"We're definitely seeing more sustained caution about the new president's ability to turn his rhetoric into legislative and regulatory action," said Cameron Brandt, director of research at EPFR Global, which analyzes flows in more than $17 trillion of mutual funds. "There are plenty of signals that people want to see something tangible."
Here are a handful of signs that investors are stepping away from reflation wagers.
Equity Outflows

U.S. equity funds saw almost $15 billion of outflows in the week ended April 5, the biggest withdrawal since the third quarter of 2015, and money barely returned the following week, according to EPFR data.
U.S. stock benchmarks fell further from record highs last week amid escalating geopolitical concerns and confusion about the future of Trump's growth agenda. The S&P 500 has pared its year-to-date gain to about 4.6 percent, with investors favoring funds tracking shares of overseas companies.
"You're coming up to a bit of a gut-check with first-quarter earnings season about to kick off," Brandt said. "And if you're looking at comparative valuations, you might certainly conclude that emerging markets and Europe offer value."
Playing Defense

While the S&P 500 remains about 2 percent from its record high, leadership in the market has shifted. Financial and industrial companies that rallied after Trump's victory have trailed in the past month as investors turned to defensive sectors like consumer staples and dividend-paying shares.
Industries that EPFR categorizes as "bond proxies" -- consumer goods, telecom and utilities -- have attracted inflows for two straight weeks for the first time in three months.
Inflation Questioned

You can't get reflation without inflation. And whether looking at the latest consumer price index data in the U.S. or flows into inflation-protected bond funds, it's clear that investors are less worried about accelerating price growth.
U.S. inflation-protected bond funds saw their first outflows of 2017 in the past week, and just the second since August, EPFR data show. Globally, investors have withdrawn money from the asset class in four of the past five weeks.
Inflation in the U.S. unexpectedly fell in March from February, for the first monthly decline since February 2016, according to Labor Department data. What's more, the core consumer-price index, which excludes volatile food and energy prices, dropped for the first time since 2010.
Munis Rebound

Funds focused on municipal bonds, which are largely exempt from federal income taxes, saw the third-largest inflow ever in the week through April 12. While the $3.8 trillion market usually sees stronger demand around U.S. Tax Day, this year appears to have an added element, Brandt said. Reform could lower income-tax rates and diminish the appeal of munis' exemption.
Fortunately for states and cities that rely on muni issuance, that doesn't appear imminent. Treasury Secretary Steven Mnuchin, who had previously said the administration would aim for a tax plan by August, is pushing that timeline to year-end. And some analysts say even that's too ambitious.
Munis "were under pressure because of all of the initial round of Trump initiatives, tax reform always seemed the most likely to move forward," Brandt said. "Now the tax angle has been pushed off."
— With assistance by Oliver Renick
Before it's here, it's on the Bloomberg Terminal.
LEARN MORE