China Home Prices Rise in More Cities as Buyers Beat Curbs
Bloomberg News
Values gained in 62 cities in March, versus 56 in February

New home sales remained buoyant last month with prices intact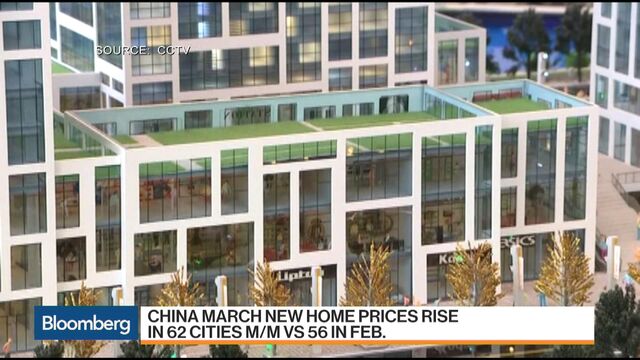 China home prices rose in the most cities since October, suggesting buyers are trying to get in ahead of any further restrictions on property purchases.
New-home prices, excluding government-subsidized housing, gained last month in 62 of the 70 cities tracked by the government, compared with 56 in February, the National Bureau of Statistics said on Tuesday. Prices fell in eight cities, the data show.
Chinese authorities have pledged to enforce strict curbs in most first- and second-tier cities to prevent a housing bubble, while seeking to clear a glut of unsold homes in smaller urban centers. In a month when at least 64 cities announced new or tougher property-buying restrictions, some of the demand may have come from buyers flocking to the market in fear they'd be ruled ineligible for future purchases.
"Buying restrictions may lead to some panic buying," said Yan Yuejin, a Shanghai-based analyst at property data and consulting firm China Real Estate Information Corp."As more and more curbs nowadays simply rule some buyers ineligible, people will be more active to get a home in case they are barred from the market someday."

The value of China's home sales remained buoyant in March, according to data released Monday by the National Bureau of Statistics. New home sales by value rose 18 percent to 1 trillion yuan ($145 billion) last month from a year earlier. The increase compares with a 23 percent surge in the first two months of the year.
City Prices
Home prices increased 0.4 percent in Beijing, as the municipal government raised down payment requirements for second-home buyers. In Guangzhou, the last major city to announce buying curbs, prices gained 2.5 percent. Prices in Shanghai declined 0.1 percent last month following a 0.2 percent increase in February. In Shenzhen, the nation's hottest market early last year, prices fell 0.3 percent in the sixth straight monthly decline.
Property curbs last month spread from large cities to smaller areas. Among big cities, Guangzhou on March 30 ruled new homes can't be resold for at least two years to rein in speculative buying and said it will scrutinize home loans to newly divorced couples amid concern some people may be separating to skirt home ownership rules.
Among smaller cities, Lianjiang county in Fujian province, with a population of just 660,000 people, ruled people who hadn't paid tax in the area for a year ineligible to purchase property.
Preliminary private data also showed residential prices are growing at a faster pace. Average home prices gained 0.97 percent in March from a month earlier, Fang Holdings Ltd., which tracks prices in 100 cities, said in an April 10. Demand stayed buoyant as buyers remained confident of future price growth, and investors turned to third-tier cities amid tougher curbs in most bigger cities, according to the report.
The property market beat expectations "in all indexes available" last month, and home sales remained upbeat in April according to early indicators, Eric Zhang, a Beijing-based analyst at China International Capital Corp. wrote in a note Monday. Zhang holds the highest industry forecast on the market, predicting home sales to gain 15 percent in value and 10 percent by area this year.