markets
BOJ Is Considering Slight Cut to Its Inflation Estimate
By and
Central bank to update view on prices, growth on April 27

Officials are said not to see need for more stimulus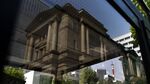 The Bank of Japan is said be mulling a small reduction in its inflation forecast when the board provides a quarterly outlook report at its policy meeting next week, according to people familiar with discussions at the central bank.
The board may lower its price projection from 1.5 percent for the current fiscal year through March 2018, said the people, who asked not to be named because talks are private. The BOJ's current prediction is almost twice the 0.8 percent estimated by private economists in a Bloomberg survey.
Still, the officials don't see the need for additional stimulus at this point because a small revision to the projection for CPI won't alter the BOJ's broader view that inflation will eventually begin heading toward the 2 percent target, the people said.
It's becoming clearer that the modest recovery seen in Japan's economy in recent quarters isn't generating enough inflationary pressure to justify the BOJ's current price assessment, the people said. They also note that low mobile phone prices and connection fees have weighed on the consumer price index more than expected.
The possible cut in the forecast suggests the BOJ remains a long way from raising its target rate for 10-year bond yields. Governor Haruhiko Kuroda said Monday that Japan's economic recovery is showing a firmer footing while price trends continue to warrant close attention.

"The BOJ should cut its price outlook to make it more realistic," Hiroshi Ugai, chief Japan economist at JPMorgan Chase & Co. wrote in a report Monday. The current forecast is too high and investors don't know what to make of it as they try to gauge medium to long-term inflation expectations, he said.
Kuroda took the helm at the BOJ in early 2013 with the aim of reaching 2 percent in about 2 years.
Read more: It's Mission Half Accomplished for Kuroda
Hideo Hayakawa, a former BOJ chief economist, has said he expects the BOJ to trim its projection to something above 1 percent, from 1.5 percent.
No final decision has been made on the price forecast and discussions at the BOJ are continuing ahead of the board meeting to be held April 26-27.
The BOJ will give the median estimate of its nine board members for the average inflation rate and the economic growth for each of three fiscal years through March 2020 at the conclusion of the meeting.
(
Adds comments from economists.
)
Before it's here, it's on the Bloomberg Terminal.
LEARN MORE