Australia's LNG Exports Face Review Amid Gas Crisis at Home
By
Competition regulator says Santos buying gas from local market

Prime Minister Turnbull to meet energy producers Wednesday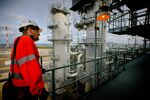 Australia's competition regulator said the possible sale of natural gas intended for the country's domestic market to overseas customers instead must be reviewed amid high wholesale prices at home.
Ahead of a meeting Wednesday between Prime Minister Malcolm Turnbull and energy producers over Australia's potential gas shortages, the regulator said the ability of the Santos Ltd.-led Gladstone LNG project to export third-party gas must be examined. The $18.5 billion project will buy more than 20 percent of gas available for users on the country's east coast this year due to shortages from its own fields, according to consultancy Wood Mackenzie Ltd.

GLNG "was clearly short of gas and has had to buy it from the domestic market to meet its overseas contracts," Rod Sims, chairman of the Australian Competition & Consumer Commission said in an interview. The purchases by Santos, along with state bans on drilling, "has created a crisis for Australian manufacturing, which does need to be addressed."
Why is Australia running short on gas? A QuickTake Q&A explainer
The supply squeeze has contributed to the spot price of wholesale gas in Australia tripling in the last two years, according to a February report from the Australian Industry Group, and led to calls to restrict exports to Asia. Royal Dutch Shell Plc, which operates the Queensland Curtis LNG export plant, said in March that the purchase of gas intended for the domestic market by the state's LNG exporters had compounded the issue of gas shortages. It didn't name any specific companies.
"It is not acceptable for Australia to be shortly the world's largest exporter of LNG and yet to have a gas shortage on the east coast in its domestic market," Turnbull said at a briefing Tuesday. "We will defend the energy security of Australians and reliable and affordable gas supply is a key part of that."
Gas Pledges
The Australian government extracted pledges from oil and gas executives a month ago to raise production of the fuel. Supply deals for the domestic market from two of the Queensland LNG operators -- QCLNG and Origin Energy Ltd. have since been announced.
Santos didn't answer questions from Bloomberg and referred to an interview Chief Executive Officer Kevin Gallagher gave to Sky News on Tuesday. The CEO said that the Adelaide-based company would be happy to send gas to local markets it can free up but has little supply available because of state restrictions on exploration.
Australian Energy Minister Josh Frydenberg said in an interview with ABC Radio Wednesday domestic purchases of gas by Santos that are then exported have boosted prices across the country. The minister said he would have a frank conversation with Santos during today's meeting and say that the situation occurring with gas supplies is "unacceptable."
The nation's leading industry group said Monday a gas swap may alleviate domestic shortages while conceding that gas could again be scooped up for export leaving the local market short.
Gas Development
"The apparent travails of Santos and its GLNG partners in meeting even their base level of commitment mean this is a real threat," Australian Industry Group Chief Executive Officer Innes Willox said in a letter. "Indeed, we are told by producers that some gas has already been sold to help the domestic market, then onsold to GLNG."
The most viable short-term source of boosting domestic supply is via the Queensland LNG projects, according to Wood Mackenzie, although challenges remain to get the gas from the northern state down to Victoria and South Australia. New low-cost supplies must be developed over the long-term, the consultancy said.
"One of the the best prospects for lower cost long term new supply could be onshore gas on Victoria and New South Wales," said Saul Kavonic, lead analyst for Australia with Wood Mackenzie, in emailed comments. "But policy restrictions on drilling there would need to be lifted for that to be realized."