Your Evening Briefing
Here are today's top stories.
By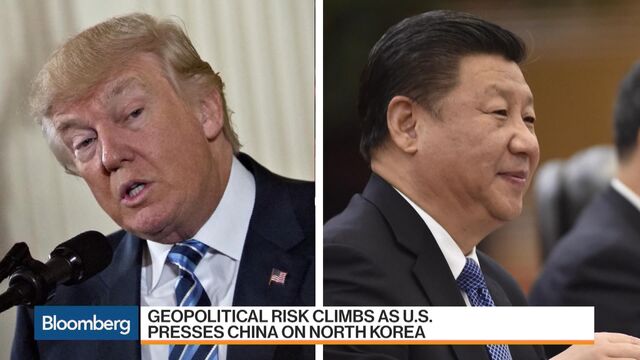 Want to receive this post in your inbox every afternoon? Sign up here.
If you still haven't filed your taxes, you're not alone. Each year, more and more Americans wait until the last minute. This year, taxpayers even had a few extra days to procrastinate: Returns are due on April 18 instead of the traditional April 15 deadline. A whopping 12 percent of 18-to-34-year olds — those who tend to have the simplest taxes — say they wait until the last 24 hours to think about filing. Damn millennials. —Megan Hess
Vice President Mike Pence encouraged China to take action against North Korea while he met with troops a day after Kim Jong Un's regime defied the Trump administration with a ballistic missile test. Pence said he was "heartened" by early signs from China and hoped its leaders would "use the extraordinary levers they have" to prod Kim into giving up his nuclear weapons and ballistic missiles. But he repeated President Trump's warning that the U.S. would act without China if necessary.
Millions of Americans still haven't filed their taxes. Last year's end-of-season rush was intense. The IRS collected 29 million individual returns between April 8 and April 22, which was one-fifth of all those filed in 2016 and a 24 percent surge in late-season filings from the previous year. This year, as of April 7, almost 4 million fewer people had filed than at the same point a year ago. PSA: The deadline is tomorrow.
The fastest and most furious. "The Fate of the Furious," the eighth installment from the Fast and The Furious franchise, easily outpaced the competition in its box-office debut and is on track to be the biggest global movie opening of all time. It set an opening weekend record in China even as its North American revenue missed estimates. The movie was the only new release of the weekend in the U.S.
A venture capitalist is spending millions to break Elon Musk's Trump ties. Doug Derwin's personal protest against Elon Musk has morphed into a full-on public campaign to force the Tesla CEO to sever all ties with Trump. Derwin is the secret backer of billboards that appeared in recent weeks near Tesla's headquarters and factory in Silicon Valley that read "Elon: Please dump Trump." On Monday, he launched a web site featuring videos of upset Tesla owners, "Elon: Dump Trump" bumper stickers and hats and shirts that say "Resist."
What's next for a "deeply split" Turkey. German Chancellor Angela Merkel said Turkish leaders should open talks with opponents and the European Union after a narrow referendum victory over the weekend. The French government urged President Recep Tayyip Erdogan not to use the result of the vote to bring back capital punishment.
Robots may help build your next home and fill the labor gap. For all the concern over automation taking away jobs, some companies are actually helping to ease a labor shortage that has set back construction of residences across the U.S. Plants like Blueprint Robotics let developers fill the gap by manufacturing houses and apartments off-site, for less money and in a fraction of the time.
The best business hotel in London isn't a business hotel at all. The Ned is the size of a convention center, located smack in the middle of London's finance and business core. But its founders — one opened Soho House, and the other is the CEO of Sydell Group — prefer the term "urban resort." When it opens on April 27, the Ned will have 252 rooms; seven public restaurants; a private members' club; three bars; a rooftop pool; six meeting and event spaces; a barbershop; a women's hair studio; separate salons for facials and skin rejuvenation, make-up, and nails; a fitness club; and a spa.

Before it's here, it's on the Bloomberg Terminal.
LEARN MORE