Gorsuch Full of Questions on First U.S. Supreme Court Day
By and
With new justice seated, court hears arguments in three cases

Gorsuch was sworn in a week ago after Senate confirmation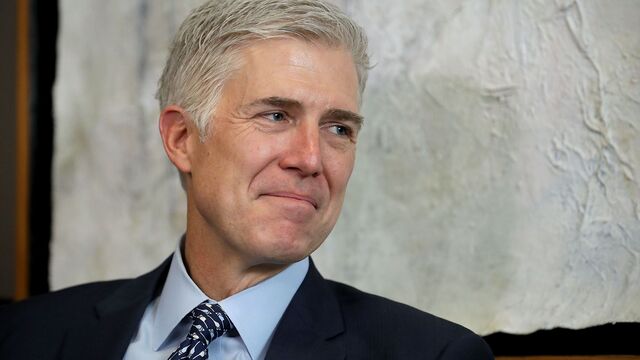 Justice Neil Gorsuch didn't wait long to start making his presence felt at the U.S. Supreme Court.
Ten minutes into his first argument as a justice, Gorsuch suggested that both sides in a case involving federal employees were misreading the key federal law.
"Where in the statute is that provided?" he asked the lawyer representing a dismissed Census Bureau worker.
It was to be the theme of the day as Gorsuch and the court heard arguments in three cases, only a week after he took the oath to fill the 14-month-old Supreme Court vacancy. Gorsuch proved to be an aggressive questioner, one tightly focused on statutory wording and perhaps even willing to start what a fellow justice described as a "revolution" in a given area of law.
Gorsuch's arrival highlighted a day that otherwise was full of cases so technical that Justice Sonia Sotomayor joked she hoped she wouldn't have to write the opinion in one of them. That was the first case, a procedural dispute involving the rights of federal employees who lose their jobs.
Gorsuch, however, was enthusiastic as he questioned Chris Landau, the lawyer representing the dismissed Census Bureau worker. Landau asked the court to let the man's entire suit go forward in a federal district court, rather than waiting for part of the case to be addressed first by a federal appeals court. When Landau said he wasn't asking the court to "break any new ground," Gorsuch gave a pointed response.
"No, just to continue to make it up," Gorsuch said.
QuickTake: The U.S. Supreme Court
Gorsuch's questions suggested he disagreed with previous Supreme Court decisions that had let federal district courts consider lawsuits that claim violations of federal discrimination laws as well as civil service laws.
His questions drew pushback from Justice Elena Kagan.
"This would be kind of a revolution -- I mean, to the extent you can have a revolution in this kind of case," she said, drawing laughter.
Throughout the day, Gorsuch seemed both eager and comfortable as he sat in the chair designated for the most junior justice, at the far right-hand side of the mahogany bench as viewed by the audience. Early on, he shared a private laugh with Sotomayor, his nearest neighbor. He apologized when he interrupted her during questioning in the second case.
By all indications, Gorsuch will be as active a questioner as President Barack Obama's two appointees, Kagan and Sotomayor. Among the current justices, only Clarence Thomas generally refrains from asking questions.
Gorsuch surrounded his pointed questions Monday with a mixture of politeness and folksiness. During the second case, Gorsuch broke in when he wasn't satisfied with lawyer Shay Dvoretzky's answer to a question.
"I'm sorry for interrupting, counselor," Gorsuch said. "If you would just answer my question, I would be grateful."
'Not a Trick Question'
When a follow-up question seemed to stump Dvoretzky, Gorsuch said, "that's not a trick question." After the lawyer answered, Gorsuch said, "I'll let you go," before smiling and leaning back into his seat.
That case centered on the constitutional requirements when someone wants to intervene in a lawsuit. Dvoretzky's adversary in the case was Neal Katyal, the appellate lawyer who introduced Gorsuch at his confirmation hearing.
Katyal's staunch support for Gorsuch had led some legal ethics experts to wonder whether the justice might recuse himself from the case. Gorsuch sat through the argument and asked no questions of Katyal.
The third case will affect the deadlines for some investor fraud suits. California Public Employees' Retirement System argues the deadline for its suit against Lehman Brothers underwriters should be extended because a similar class-action suit had been filed against the same defendants.
Gorsuch directed all of his questions to the Calpers lawyer, Tom Goldstein. The justice said the "plain language" of the key statute favored the underwriters, suggesting he would vote to bar the Calpers lawsuit.
The day started with Chief Justice John Roberts welcoming Gorsuch. "We wish you a long and happy career in our common calling," Roberts said.
Gorsuch thanked his new colleagues for the "very warm welcome" he said he had received.
Before it's here, it's on the Bloomberg Terminal.
LEARN MORE