business
Don't Bet China Will Bail Out Wealth Products, Fund CEO Says
Bloomberg News
Hard for PBOC to deleverage without casualties: China AMC head

'Not much downside risk' to the yuan after Trump-Xi summit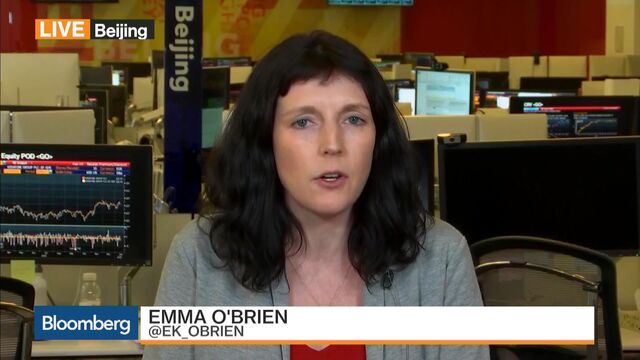 China's market for wealth management products is due for some pain as officials tighten regulations on the sector amid their campaign to curb financial risk, says the head of the nation's third-largest mutual fund manager.
Some holders of the products -- popular among individual investors for their high yields -- hold the "very dangerous assumption" that the government will step in to support WMPs if they get in to trouble, said Tang Xiaodong, chief executive officer of China Asset Management Co., which oversees more than 1 trillion yuan ($145 billion) of investments.
"The WMPs have been developing a little too fast, too soon," Tang said an interview Monday in Bloomberg's Beijing bureau. "That's why the tightening of those regulations is a step in the right direction."
Policy makers said in February that they're drafting rules that will make it clear there are no state guarantees on WMPs, a corner of China's burgeoning shadow banking sector that tripled over the past three years. Analysts are concerned about a bubble in WMPs, with assets held in asset management products amounting to about 80 percent of the nation's gross domestic product in June, data compiled by the China Securities Regulatory Commission and Bloomberg show.
Investors are convinced Beijing will intervene if a big WMP looks like failing: read more.
Beijing has a "strong interest" in disabusing people of the notion that they'll automatically swoop in and save the WMP market, Tang said. China has built up a record debt pile since the global financial crisis, and the government has made conquering financial risks one of its top priorities this year.

"It's definitely a very challenging task for the People's Bank of China to reduce leverage without having any casualties," said Tang, adding that officials will likely move gradually to minimize fallout from their actions.
Beijing-based China Asset Management managed 536.5 billion yuan in its mutual funds as of September, making it the third-largest in the country, according to the Asset Management Association of China.
Tang also spoke about China's capital markets and the currency:
There's "not much downside risk" to the yuan this year as China wants it to be stable, while the U.S. wants a weaker dollar. The risk of a trade war between the two countries has also been "drastically reduced" after the meeting between U.S. President Trump and his counterpart Xi Jinping.
The odds of China's mainland-traded shares being included in MSCI Inc.'s indexes this year are higher this year, Tang said.
The Xiongan New Area announced earlier this month by the government will be different than similar projects in Shanghai and Shenzhen because it will be innovation-driven and have a more balanced approach to urban development.
"When the dust settles people will realize how significant it is going to be," Tang said about Xiongan.
Next step in China's opening up of its capital markets is the bond connect program between the mainland and Hong Kong, he said.
— With assistance by Tian Chen, Tom Mackenzie, and Jun Luo
(
Updates with comment on Xiongan zone as second-last bullet point.
)
Before it's here, it's on the Bloomberg Terminal.
LEARN MORE