Hot Spots in Emerging Markets This Week: Turkey, South Korea
By and
Turkey hands President Erdogan more power in referendum

North Korea stress grows; Brazil wrestles with pensions, graft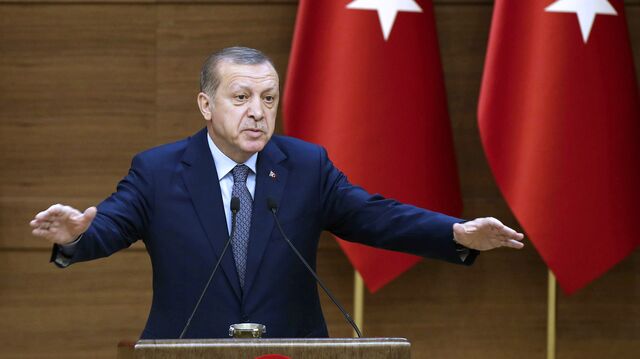 Easter is keeping some of the world's markets closed, but it hasn't stopped macro and political events from piling up.
U.S. urban inflation slowed for the first time since July, while China dodged being labeled a currency-manipulator and Turks handed their president more power than any other leader in the republic's 93-year history.
Traders will also have to grapple with rising geopolitical tension in Asia following North Korea's decision to fire an unidentified ballistic missile in defiance of U.S. President Donald Trump.
Turkey
The lira rallied as much as 2.5 percent after Turks voted in favor of President Recep Tayyip Erdogan's bid to centralize power in his hands. But with his victory won with a thin margin, accusations of fraud have already started to cast a shadow over the results.
Erdal Aksunger, the deputy head of the CHP, the largest opposition bloc, said 2.5 million votes were "problematic" and that the state-run Anadolu Agency was "manipulating" results, announcing totals that were different from the official tally.
Read More: Erdogan Declares Victory as Opposition Contest Turkish Result
While Erdogan's win removes some of the short-term uncertainties that have marred Turkey's financial markets, "it will mainly exacerbate Turkey's economic problems in the medium and long term," Wolfango Piccoli, the London-based co-president of political risk advisory Teneo Intelligence, said in an emailed note. "There is also a considerable risk that the further consolidation of power under Erdogan will increase the volatility of the domestic political and societal backdrop."
The lira strengthened 1.3 percent as of 9:05 a.m. in Istanbul, trimming its year-to-date decline to 3.8 percent. It's still the worst performer this year among the 24 emerging-market currencies tracked by Bloomberg.
China
The U.S. hasn't branded a nation a currency manipulator since 1994. It kept China, South Korea and Taiwan on its monitoring list and urged the world's second-largest economy to allow the yuan to appreciate and to embrace more trade.
One-year implied volatility for the off-shore yuan versus the dollar fell last week to the lowest level since August 2015, when the government allowed the currency to devalue.



South Korea
Won assets were whipsawed last week amid growing tension between the U.S., South Korea and North Korea. Kim Jong Un defied warnings from U.S. government officials and launched a missile on Sunday that exploded almost immediately.
Read More: Pence Lands in South Korea After North Defies Trump With Missile
"The market's attention will remain fixated on tensions in the region," said Thierry Wizman, a global interest-rates and currency strategist at Macquarie Group Ltd. in New York.
Brazil
Changes to Brazil's pension reform will narrow the country's deficit by between 550 billion reais ($175 billion) and 600 billion reais in a decade, President Michel Temer said in an interview. The initial plan was estimated to reduce the gap by 800 billion reais, but was amended to gain lawmaker support. Temer agreed the changes amid concern a corruption investigation into dozens of politicians will paralyze Congress.
Read More: Brazil's Graft Probe Nips at Heels of President Temer: QuickTake
The real's one-year forward implied yield declined to 8.46 percent on Thursday, the lowest level since August 2013.

South Africa
The world's most volatile currency on a one-month basis may be in for another politically-charged week. A parliamentary vote on a motion of no confidence in President Jacob Zuma has been postponed from April 18 until the nation's top court decides on an application for a secret ballot, which Zuma opposes.
Read More: S. Africa Parliament Delays Zuma Confidence Vote on DA Request
— With assistance by Constantine Courcoulas, Isobel Finkel, and Andrew Janes
Before it's here, it's on the Bloomberg Terminal.
LEARN MORE