business
Moutai Aims for 2017 Sales Growth of 15% as Spirits Demand Rises
Bloomberg News
2016 net income rose 8% to 16.7 billion yuan, revenue up 19%

Distiller faces more competition from wine and Western liquors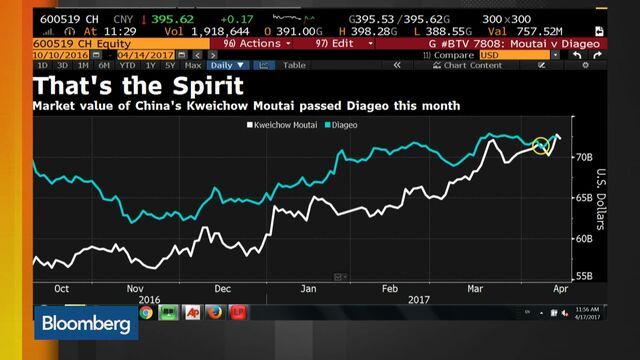 China's Kweichow Moutai Co., the world's most valuable liquor distiller, said it aims to boost revenue by more than 15 percent this year as it benefits from Chinese consumers shifting to pricier spirits.
Full-year net income grew 8 percent last year to 16.7 billion yuan ($2.4 billion), Moutai said in an exchange filing in Shanghai late Friday. Revenue rose 19 percent to 38.9 billion yuan.
The Guizhou-based distiller, whose fiery liquor is the toast of choice for China's political leaders, overtook Johnnie Walker-brand owner Diageo Plc this week as the most valuable distiller in the world with a market value of $72 billion.
Moutai forecast full-year net income last December that missed the consensus estimate of 17.2 billion yuan. Analysts said this was due to a higher tax bill from China's adjusted consumption tax policy. In that statement, Moutai said it is targeting sales volume of 50,000 tons of liquor in 2017.

Profit growth comes as Moutai raises wholesale prices, a sign that the top-shelf brands in the $115 billion baijiu industry have succeeded in appealing more to a growing middle class.
"Moutai boasts the strongest pricing power in the industry with its strong brand awareness," Lyu Chang, an analyst at SWS Research Co., said before the results. "It has robust growth momentum and rising levels of profitability driven by rising income levels and middle-class consumers spending more."
China's officials and elite had propped up demand and prices for top-tier baijiu before President Xi Jinping's anti-corruption campaign clamped down on government excess. In 2013, when the campaign was at its height, Moutai shares plunged almost 40 percent. Since then, the stock has more than tripled, closing at 395.45 yuan Friday in Shanghai.
Competition, Challenges
Even as the baijiu industry leaves the anti-corruption crisis behind, it faces the long-term challenge of attracting young Chinese drinkers who are fonder of bars and nightclubs than the banquet halls where baijiu is often downed. Their willingness to spend more is also matched by a desire to invest in healthier lifestyles, while makers of wine and Western liquors like whiskey make a strong bid for their attention.
China imported $341 million in wine in December last year, up 54 percent from $221 million in the same month in 2013, according to data released by the customs administration.
"Red wine is gaining popularity among younger Chinese for dinner-table drinking, which is where baijiu is traditionally consumed," said Hunter Williams, a partner at Oliver Wyman Ltd. in Shanghai. "There's a growing health-consciousness among consumers that could impact the demand for baijiu in the long term."
— With assistance by Rachel Chang, and Ying Tian
Before it's here, it's on the Bloomberg Terminal.
LEARN MORE