Trump Rattles Saber at North Korea as Pence Dispatched to Seoul
By
The U.S. is weighing military options for nuclear test

Kim Jong Un government signals provocation in the works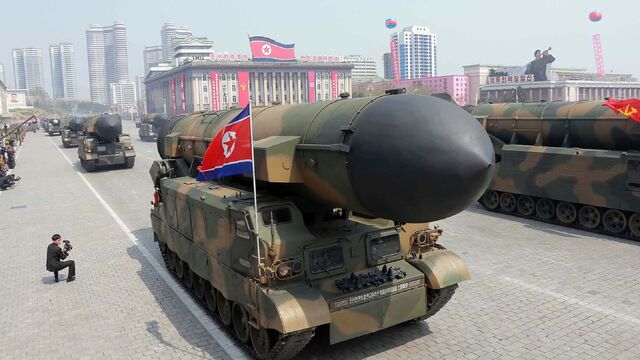 The Trump administration is considering economic sanctions and military options if North Korea goes forward with a ballistic missile or nuclear test, U.S. officials said Thursday.
Vice President Mike Pence will discuss the U.S. response to a North Korean provocation on a visit to South Korea and Japan as part of a 10-day tour of Asia beginning this weekend. He'll arrive in Seoul on Easter Sunday, one day after the April 15 anniversary of the birth of Kim Il Sung, North Korea's founder. White House foreign policy aides who requested anonymity to discuss the vice president's travel say North Korea has telegraphed the possibility of a nuclear or missile test to coincide with its national holiday.
Tensions are rising between the North Korean regime and President Donald Trump's government, and the U.S. is ratcheting up pressure on China to contain its neighbor and ally. Pence's trip follows Trump's dispatch of the USS Carl Vinson aircraft carrier and its battle group to the waters around the Korean peninsula. Commercial satellite imagery of North Korea's Punggye-ri nuclear test site obtained by 38 North, a program devoted to analysis of the country at the Johns Hopkins University School of Advanced International Studies, showed activity at the site suggestive of preparations for a nuclear test.
Hundreds of foreign journalists have been invited to Pyongyang in conjunction with the anniversary celebration.
"North Korea is a problem," Trump told reporters at the White House on Thursday. "The problem will be taken care of."
Limited Strike
The White House is thought to be discussing the possibility of a limited missile strike in North Korea if concerns over the progress of its nuclear program intensify. But public opinion in the South does not favor a U.S. strike that could provoke a North Korean counterattack against its neighbor.
"This threat is growing, and our president's first strike or left-of-launch options and his strategic decision space and time are becoming limited, because of these advancements," Senator Dan Sullivan, an Alaska Republican, said earlier this month at a forum hosted by the Center for Strategic and International Studies in Washington.
White House aides have said it is the administration's policy not to publicly outline definitive consequences for certain behaviors. But such a move would certainly draw concern in South Korea, which would most likely face the brunt of any retaliation.
The White House expects South Korean officials to raise the issue during the vice president's visit, and Pence also plans to discuss possible military steps with Army General Vincent Brooks, the commander of United States Forces Korea. Pence's team also expects South Korean leadership to raise the possibility of tightening economic sanctions against North Korea and firms that do business with the country, the officials said.
QuickTake: North Korea's Nukes
Trump administration officials say they have seen progress after urging China to help constrain North Korea's antagonism.
Coal Boats
Trump on Wednesday highlighted China's move to ban coal imports from North Korea, noting that a fleet of cargo ships had turned around to return to their home port of Nampo during his summit with Chinese President Xi Jinping last week at Mar-A-Lago.
"That's a big step, and they have many other steps that I know about," Trump said at a news conference on Wednesday.
Separately, the Global Times, a Communist Party-affiliated Chinese newspaper, argued in an editorial that Beijing should support stiffer UN sanctions against North Korea, including the limit of oil exports, if the country conducts another another nuclear test.
North Korean state media said the government was prepared to respond to U.S. aggression.
"Our revolutionary strong army is keenly watching every move by enemy elements with our nuclear sight focused on the U.S. invasionary bases not only in South Korea and the Pacific operation theater but also in the U.S. mainland," the Rodong Sinmun newspaper said.
Thaad Deployment
While in South Korea, Pence is expected to meet with U.S. troops and promote the deployment of the U.S. Thaad missile-defense system in the region.
Explaining Thaad, and Why It So Bothers China: QuickTake Q&A
The Lockheed Martin Corp. system has unnerved China, split South Koreans and become an issue in the campaign to replace impeached President Park Geun-hye. Moon Jae-in, the candidate for the left-leaning Democratic Party of Korea, initially called for a review of the decision to install the system but has softened his objections in recent weeks.
"If North Korea continues with its nuclear provocations and China fails to restrain it, Thaad's deployment will be inevitable," Moon said in a Facebook post on Tuesday.
His main rival, Ahn Cheol-soo, of the centrist People's Party, has supported deploying the missile system. Pence is not expected to meet with either candidate during his time on the peninsula.
China has taken retaliatory steps for South Korea's acceptance of the Thaad system, including ordering travel agencies to stop selling tour packages to the country and suspending the business licenses of four South Korean superstores operating within China over alleged safety violations. 
After visiting South Korea, Pence heads to Japan, where he'll continue his North Korea discussions and engage in trade talks. While there, he'll tour the USS Ronald Reagan and deliver a speech to U.S. and Japanese service members.
Before it's here, it's on the Bloomberg Terminal.
LEARN MORE