Food
The Best Old-School Ice Cream Sundae in New York
An appreciation of the much beloved, slightly ridiculous Serendipity 3 sundae.
By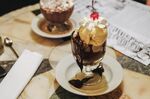 If you want to know a real New Yorker's version of a horror movie, hang out at the West Village location of Magnolia Bakery when a Sex and the City tour bus pulls up outside. For locals, the line that forms day after day outside the faux quaint bakery is an ongoing source of bewilderment, especially when Magnolia's SATC cameo ran all of 30 seconds.
Locals tend to avoid these kinds of daytime lines, but that's changed of late. At Hong Kong dim sum import Tim Ho Wan, dozens of people gather outside before it opens at at 10 a.m., seeking caramelized pork buns. At the new Chefs Counter, the crowd of people waiting for a creamy egg brioche Eggslut sandwich from Alvin Cailan persists until they sell out, at noon.
While I don't stand on any of those lines (except, maybe, for a Cronut), I found myself outside Serendipity 3 on a recent, sunny, weekday morning. When I arrived at 11:20 a.m., 10 minutes before the doors should open, a queue already ran halfway down the block. The wait, I was told, would take half an hour.

I have been a Serendipity 3 fan since I was a young New Yorker, but not for the glitter and not for the frozen hot chocolate that everyone else talks about. I worship the hot fudge sundae. On the face, it's a straightforward recipe, with a handful of toppings and ice cream options, a big mound of whipped cream, and a maraschino cherry. My choice has always been chocolate chip ice cream (I'm very sure it was Hershey's brand) doused in thick fudge sauce. 
Its pop-culture roots run deep: Andy Warhol used to pay for his tab there with artwork and called it his favorite sweet shop. More recent guests have included Leonardo DiCaprio, on a date, and Kim Kardashian and Kanye West, who brought their kids and posted the frozen hot chocolate on Snapchat. It had a starring role in that John Cusack movie Serendipity.  

Every so often, I check in because that sundae has remained awesome even as the rest of the menu went downhill. A sludgy chicken pot pie has an undercooked crust; an order of nachos comes with a truckload of cheese piled up on two chips. I've never even been brave enough to order anything from the De la Mer section. In general, the foot-long hot dogs are the most solid, savory bet.
The storefront is on East 60th Street, a block from the Magnolia Bakery outpost at Bloomingdale's. In many ways, Serendipity 3 is the 1OAK of the under-16 set. During daylight hours, there are just as many Dylan's Candy Store bags as Louis Vuitton brown monogrammed totes. Scores of kids, post-meltdown from the American Girl store, arrive with their parents. After school, multiple cliques from no-adults parties wave cell phones as they wait.
What's more surprising is how many grownups without kids are waiting, too. The Serendipity sign acts as a de facto step-and-repeat stand for tourists; if you pause near the entrance, you will be standing in the way of an iPhone soon enough.
Inside, the entrance is lined with shelves of sparkling earrings and orange Serendipity 3 hoodies for $48. A newer item, the President Trump action figure, is on offer next to a canister of Happy Soap for Your Crappy Life. Beyond is a glimpse into the ground floor dining room, decorated with Tiffany lamps and a few mirrored balls that promise a delirious time for everyone.

The good-natured host ushered us to what he called our Marilyn Monroe table, in a secluded section of the front. "It's also called the Kardashian table, but we prefer Marilyn," he said. (It's next to the Leonardo DiCaprio table, which is smaller.) 
I ordered my hot fudge sundae with three scoops of ice cream—chocolate, coffee, and vanilla. ($12.50) Unfortunately, Serendipity 3 no longer offers chocolate chip. And, because everyone does, I ordered a frozen hot chocolate ($10.95), which is displayed in cute packages at the front of the restaurant.

The menu has morphed over the years to offer multiple kinds of sundaes. There's a Forbidden Broadway number with pieces of tasteless chocolate blackout cake wedged into the side ($17.50), and a Cinnamon Fun sundae with starchy apple pie (also $17.50, also not an improvement).
The priciest is the Guinness World Record Golden Opulence Sundae, which goes for $1,000. It's covered in gold leaf, among other things. My waiter said it was his favorite and that the shop sells hundreds—almost one a day. When my order arrived, I found the frozen hot chocolate as bad as ever, like sweet, chocolate-flavored ice water with a dome of whipped cream. 

But the sundae is still ridiculously good. Our waiter (the $1,000 sundae aficionado) said that the ice cream was Häagen-Dazs, which I don't believe; the company's vanilla doesn't usually come with icy chips inside. He also said the hot fudge isn't homemade but comes in "canisters."
I don't care. Piled up in a sundae glass, the sauce is ultra-chocolate-y and so thick it hangs suspended over the side, dripping onto the plate in slow motion. The ice cream, too, hits the right ratio. The chocolate and coffee ice cream is smooth and richly flavored. The whipped cream on top is unsweetened—sweet would have pushed it over the top—with satisfying ridges.
A final touch, the bright red cherry is perched on one side of the whipped cream pile. In all, it made the perfect lunch.
Before it's here, it's on the Bloomberg Terminal.
LEARN MORE