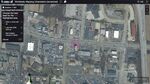 As the human population grows, so does its footprint. To map these changes, researchers often turn to satellite imagery, because government-collected data can be infrequent and outdated. In particular, nighttime light images can offer a wealth of information about human activity. In fact, as CityLab's Richard Florida has written, more than 3,000 studies since 2000 have used nighttime lights as a proxy for all sorts economic activities.
But nighttime maps aren't perfect. "If you need to figure out how large a city is and where the boundary of a city ends, lights will spread, and a city will look too large relative to its actual size," says Amit Khandelwal,  director of the Chazen Institute for Global Business at Columbia Business School. And there's another problem: Satellite sensors have a saturation point that limits their ability to distinguish between different levels of light. That means an extremely bright place like Midtown Manhattan may appear to be equally bright as other parts of New York, even though it has more activity.
To find a better way, Khandelwal teamed up with economists and geographers at Columbia University, Arizona State University, and the Big Pixel Initiative at University of California San Diego. Together, they created the "Worldwide: Mapping Urbanization" campaign, an effort to track urbanization through daytime imagery and looking specifically at where the built environments lay, pixel by pixel. And they're asking the public to help. "The basic idea behind this project is to use daytime images in combination with nighttime light to refine the measure of where people are located around the globe," Khandelwal tells CityLab.

Built-up areas today cover 2.5 times the landmass they covered in 1975. Yet little research has been done to map where these areas lie—and essentially where the human footprint extends to. So Khandelwal's team hopes to fill in that gap.
The campaign launched last week through the crowdsourcing site Tomnod, where contributors can help researchers identify objects and places in satellite images. In each round of this project, users are given a random image with a pink box in the center. They're asked a simple question: is more or less than 50 percent of the space inside that box built? That is, are there more buildings and sidewalks as opposed to grass and bodies of water. The location of the image is purposely hidden so people will focus just on the what they see inside the box and use their best judgment to determine whether there is a human-made structure.
Khandelwal's team wouldn't be the first to focus on the human population through the lens of the built environment. Last October, during the momentous UN Habitat III conference, the European Commission's Joint Research Center launched a comprehensive open database looking at the past 40 years of human settlements via some 12.4 billion satellite images.
But Khandelwal's team isn't just looking into the past. "We think humans do a pretty good job of [identifying the built environment]," he says, "but they just can't do it for the millions and millions of points across the globe."
His team is trying to develop machine-learning methods that could change the way cities are mapped. The hope is to get hundreds, even thousands, of mapping enthusiasts to participate over the next month. Their responses will be fed into an algorithm that will boost its accuracy in predicting what area is considered "built up." Down the line, the researchers hope to train the algorithm to predict things like how "economically vibrant" a city is or how much wealth is in an area based on, say, the type of structure recorded in the image.
Khandelwal says the experiment is starting with a small sample of 20,000 images of India and the U.S., taken in 2014. Eventually, as the team adds more images to the campaign, the system will help researchers track the movement of people in real time. And it's not all about cities: They also want to identify rural areas and villages where structures are made not with concrete and steel, but with wood, mud, and so forth.
"Our goal is really to produce a map that is global in nature," Khandelwal tells CityLab, adding that he imagines there could be significant academic and policy implications for the project when it's complete.
So, for example, if a highway or railway is built, policy and urban planners can track how the geography of a city expands or gets reshaped as a result of that. Economists, on the other hand, "are very interested in how activity is distributed across space," he says. "So our hope is to put the data into the public domain and people can start asking questions about how stuff affects where people are living."
You can help with the project here.