business
Erdogan Moves to Repair Late Crack in Referendum Alliance
By
Opposition party backing presidency plan slams Erdogan aides

President, PM reassure supporters after warning from MHP chief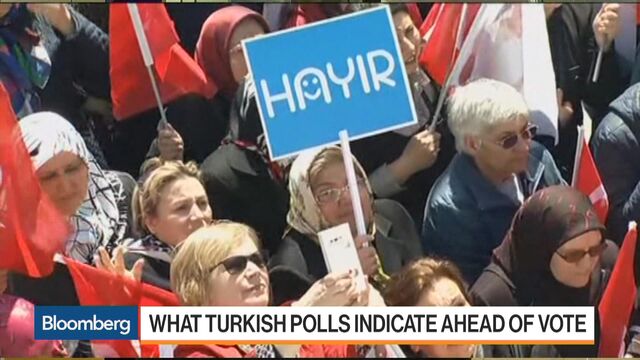 President Recep Tayyip Erdogan is facing a last-minute threat to his bid to centralize executive power from an unlikely source: the nationalist party leader whose support made Sunday's vote on the proposed changes possible in the first place.
Devlet Bahceli, head of Turkey's Nationalist Movement Party MHP, accused key Erdogan advisers late Thursday of undermining the ruling party's goal of introducing an executive presidency, and implied that nationalists could defect from an already shaky electoral alliance.
For more on the referendum, read: Wall-to-Wall Erdogan Tests Turkish Faithful as Referendum Nears

At the heart of Bahceli's criticism was Sukru Karatepe, a chief adviser to Erdogan who reportedly suggested that a possible shift to a presidential system could pave the way for an administration consisting of "states." That's an explosive concept for nationalists who are fiercely devoted to maintaining Turkey's unitary state, particularly in the face of demands for autonomy from Kurds in the nation's east. Erdogan, who was in a live interview at around the same time, responded almost immediately, saying the adviser's comments were taken out of context and that he was adamantly opposed to the idea.
"States, federations, nothing like that is on our agenda and will never be," Erdogan said in central Anatolian city of Konya during a rally on Friday in response Bahceli's concerns.
During a television interview on Thursday, Bahceli said: "If a presidential adviser talks about bringing a state system, and the president remains silent and accepts this, then what could be the decision in two days of nationalists who support a unitary structure?" He then said: "I find it difficult and won't accept comments by an adviser that can sabotage Turkey. If he was my adviser, I would sack him within the same hour."
The criticism from the MHP, whose support could be key to getting the changes approved in Sunday's vote, also left Prime Minister Binali Yildirim trying to undo any possible dent in nationalist support, saying the debate was stirring up confusion over what he called a "great reform."
"My nationalist friends, whatever your sensitivities about the unitary state, ours are the same," Yildirim said on Friday in a meeting with NGOs in Ankara. "If there's any article in this constitution that would open the way to a state system, I'd resign from the party and as prime minister immediately."
— With assistance by Selcan Hacaoglu
(
Updates with remarks from Turkish president in fourth paragraph.
)
Before it's here, it's on the Bloomberg Terminal.
LEARN MORE