Your Evening Briefing
Here are today's top stories
Bloomberg News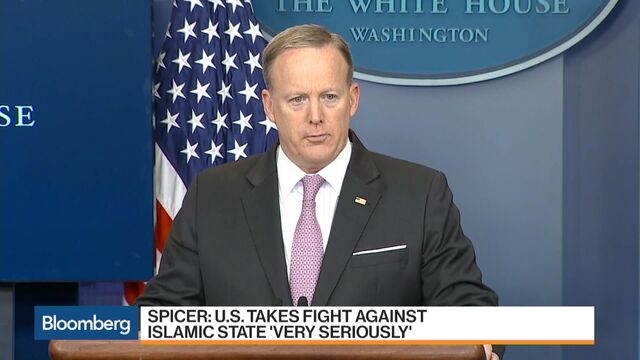 Want to receive this post in your inbox every afternoon? Sign up here.
U.S. forces dropped the "mother of all bombs"–a nickname for the largest non-nuclear bomb in the Department of Defense's arsenal–on an Islamic State target in Afghanistan Thursday evening. It was the first-ever combat use of the 26,000-pound device. The military was targeting a cave complex used by terrorists, said White House press secretary Sean Spicer.
Here's what else you might have missed today… –Emily Banks
President Trump reversed on major campaign pledges in the space of a few hours. His declaration that he won't label China a currency manipulator stands as the clearest example of the difficulty he's having delivering on big campaign promises. That decision is one among many instances of Trump reversing course since taking office. Within the span of a few hours on Wednesday, he changed previously critical stances on the U.S. Export-Import Bank, the value of NATO, interest rates, and Federal Reserve Chair Janet Yellen.
Canada is advancing plans to legalize recreational marijuana nationally. Prime Minister Justin Trudeau's justice minister proposed laws in the Ottawa legislature that set a minimum consumption age of 18. Under the proposed bills, possession of up to 30 grams of cannabis would be allowed, and up to four plants can be grown per residence. Until the new laws pass, Canada's approach remains strict.
The costs of Wells Fargo's fake-account scandal are mounting faster than the bank expected. Consultant and lawyer fees will be higher than projected: $70 million to $80 million per quarter, rather than the $50 million to $60 million projected in February, the CFO told analysts Thursday. Disclosures that the company opened accounts without depositors' permission have pressured the bank by discouraging potential customers and fueling costs related to compliance.
The calm in stocks worldwide is giving way to concern, with investors in Europe and the U.S. rushing to hedge against declines and a Credit Suisse index flashing a warning as the list of economic and political obstacles grows. The Credit Suisse Fear Barometer, which measures the cost of buying protection against declines in the S&P 500 Index, neared an all-time high this week.
The passenger dragged off a United flight suffered a concussion, a broken nose and two lost teeth, one of his lawyers said. The injured man's legal team is investigating possible legal claims against the airline and will "probably" file a lawsuit after he was pulled from his seat and dragged down the aisle of a plane for refusing to give up his spot on an April 9 flight.
Home sales in Brooklyn jumped the most in seven years, while the supply of listings hovered near a record low, pushing buyers toward bidding wars in the New York borough. Across the pond, London's housing market is in its worst slump since the depths of the financial crisis eight years ago, part of a broader slowdown that may continue.
Eleven Things I Never Knew About Flying ... Until I Became a Flight Attendant
When Norwegian offered the opportunity to become a flight attendant last month, Brandon Presser decided to find out what it's really like to fly the not-so-friendly skies. Here's everything he learned while serving as a crew member aboard their 787-8 Dreamliner long-haul service from London (LGW) to New York (JFK): how to speak the language, the best and worst travelers by country, the easiest way to get arrested, and more.

Before it's here, it's on the Bloomberg Terminal.
LEARN MORE