Your Evening Briefing
Here are today's top stories
Bloomberg News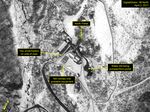 The evening briefing will soon be available in your inbox every day. To be among the first to get it, sign up here. 
North Korea's nuclear threat is a front-and-center issue for Donald Trump, who says he's leaning on Chinese leader Xi Jinping to put enough pressure on Kim Jong Un to make him back off on his development of nuclear weapons and missiles. Trump sounded hopeful in a press conference, saying: "President Xi wants to do the right thing. I think he wants to help us with North Korea." A breakthrough on this front looks all the more urgent as satellite imagery showed signs the Punggye-ri nuclear test site northeast of Pyongyang is "primed and ready" to conduct a trial.—Kristine Servando
The curious case of a billion-dollar mine sold for a song. This lithium mine was revalued at least five times amid soaring demand for the wonder metal used inside iPhones to Teslas. Its story begins in the lithium-rich salt pans of Argentina's Salta Province and stretches all the way to South Korea and Hong Kong, leaving a trail of lawsuits and unhappy investors. 
Backlash could hit United CEO where it hurts: his wallet. The airline ties about $500,000 of Oscar Munoz's annual bonus to customer satisfaction questionnaires that it collects daily. Fliers were already pretty disgruntled, but public fury over the forced removal of a passenger and Munoz's ill-phrased response don't bode well for his pocketbook.
...And here's another airline CEO in the hot seat. Cathay named Rupert Hogg as its new chief, starting May 1. The 55-year-old, who has served as chief operating officer, faces a daunting to-do list after the Hong Kong carrier reported its first shortfall in eight years. Apart from navigating intense competition from China, he'll also have to contend with Middle Eastern airlines expanding into Asia and a rash of budget upstarts taking customers away with cut-rate fares.
Asia's worst-performing currency is back on investors' radar. Sentiment is starting to improve for Malaysia's ringgit, with analysts boosting forecasts and some predicting it may become one of the region's better performers. Global funds fled in November after the central bank acted in an effort to halt the ringgit's slump.
Indonesia can't figure out why it's on the U.S. trade hit list. Officials in Jakarta were left scrambling after the country made it onto a list of nations Trump has ordered investigated for potential trade abuse. Indonesia is seeking to stay out of Trump's bad books, using a visit by Vice President Mike Pence next week to reassure its commitment to free and fair trade.
Filling in the blanc. American drinkers are falling in love with pricier New Zealand wines—at the expense of Australia. New Zealand is reaping the dividends from pushing quality wines, especially sauvignon blanc, at higher prices in a market where consumers are becoming more discerning. Exports to the U.S. have doubled in the past five years, making it the largest market for New Zealand winemakers.
A demon of a car. It runs on 100-octane fuel. It can hit 140 mph in 9.6 seconds. Oh, and it also registered the highest G-force of any recorded at the launch of a new production car. World, if you're even ready for it, meet the 2018 Dodge Challenger SRT Demon. The supercharged car is so potent that all customers who buy it receive a full-day session at a school for high-performance driving in Arizona. Naturally, it careens onto Bloomberg Pursuits' list of showstoppers at the 2017 New York Auto Show.

Before it's here, it's on the Bloomberg Terminal.
LEARN MORE