Wall Street Banks Are Beating Main Street Banks at the Start of the Trump Era
By
Political turmoil spurs trading but gives corporations pause

Companies plan deals while 'waiting for some sort of clarity'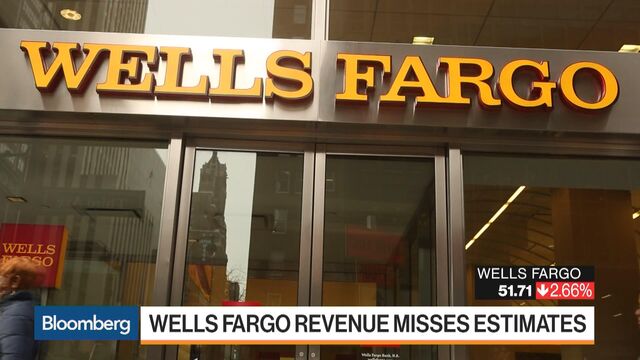 U.S. banks reporting their first profits under Donald Trump's presidency are showing a split: Wall Street businesses are faring far better than some of those serving Main Street.
The nation's two biggest trading firms -- JPMorgan Chase & Co. and Citigroup Inc. -- posted surprisingly strong revenue Thursday from buying and selling securities in the first quarter, when political turmoil prompted clients to adjust holdings. Wells Fargo & Co., which focuses on more traditional banking to consumers and businesses, reported sluggish results and said total loans fell from the end of last year.
The picture painted by senior bankers contained some irony: They're hearing excitement and optimism from business leaders over Trump's sweeping pledges for pro-growth policies. But some corporate clients are now delaying big decisions to see how his proposals take shape -- and whether his administration can actually turn them into laws.
"There's a lot of people with ideas, with expansion ideas, deal-type of notions, that are waiting to act, waiting for some sort of clarity," Wells Fargo Chief Financial Officer John Shrewsberry told Bloomberg Television. Companies are poised to proceed once "the broad business regulatory landscape is well understood, when tax reform is understood, maybe when health care is understood."
JPMorgan Chief Executive Officer Jamie Dimon, who's voiced support for many of Trump's plans to stoke the economy, cautioned analysts not to overreact to slowing growth in commercial and industrial lending. Consumers and businesses are healthy. Some companies are tapping capital markets instead. And even if new policies take awhile, they can unleash broad benefits, he said.
"When you have a new president and they get going, the nine months after the 100 days is going to be a sausage-making period," he said. "There will be ups and downs, wins and losses, stuff like that. But it is a pro-growth agenda."
Read more: JPMorgan beats on strong trading
For now, political turmoil in the U.S. and Europe, as well as changes in Federal Reserve policy, are stoking the type of Wall Street operations that faced criticism during the presidential campaign. One bright spot cited by banks was interest-rate trading. The threat of higher borrowing costs also drove corporations to issue debt, which boosted credit trading. And rising U.S. equities helped stock traders.
JPMorgan's fixed-income trading revenue rose 17 percent to $4.22 billion. The firm also showed a surprise increase in equity trading, which rose 2 percent. Companywide, net income jumped 17 percent to $6.45 billion.
At Citigroup, fixed-income traders posted their best quarter in three years, with revenue climbing 19 percent from a year earlier to $3.62 billion. Equities desks boosted revenue 10 percent. Net income climbed 17 percent to $4.09 billion.
"Whenever you have tectonic shifts in financial markets like we've had, that creates activity on Wall Street because clients have to react," said Marty Mosby, an analyst at Vining-Sparks IBG.
Read more: Citigroup rides three-year high in bond-trading
Financial stocks surged after the November election as investors speculated that Trump would sideline Wall Street's sharpest critics, dismantle regulation and pursue policies that spur inflation and lift long-term interest rates. The industry got further reassurance this week when he reversed course on other key parts of his campaign rhetoric -- backing off protectionist policies and praising the Federal Reserve's Janet Yellen. Those were seen as signs he's listening more to moderate advisers from finance, including former Goldman Sachs Group Inc. President Gary Cohn.
Three more big banks -- Bank of America Corp., Goldman Sachs Group Inc. and Morgan Stanley -- are set to disclose their quarterly results next week.
Wells Fargo, meanwhile, reported revenue on Thursday that missed analysts' estimates as the lender's embattled community bank weighed on results. The firm has had trouble attracting new retail-bank customers while grappling with a bogus-account scandal and as fewer customers take out loans.
Read more: Wells Fargo falls as revenue misses estimates
Wells Fargo was the worst performer in the S&P 500 Financials Index of 65 companies, declining 3.3 percent on Thursday in New York.
"Loan growth was certainly muted," said Jason Goldberg, an analyst at Barclays Plc. "While the administration has certainly talked a pro-growth agenda, they haven't yet executed on it. But to the extent that they implement policies that actually improve the economy, we'd expect loan growth to follow."
— With assistance by Hugh Son, Jennifer Surane, and Laura J Keller
Before it's here, it's on the Bloomberg Terminal.
LEARN MORE