Five Things You Need to Know to Start Your Day
Get caught up on what's moving markets.
By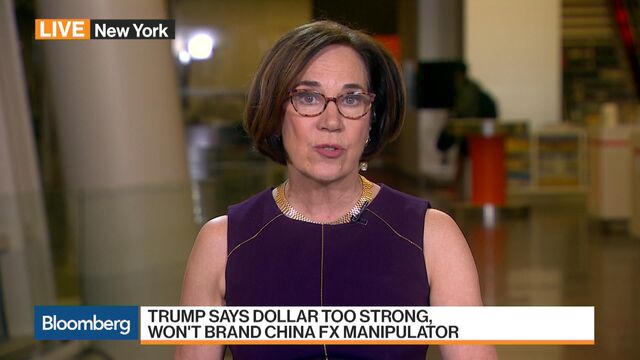 Want to receive this post in your inbox every morning? Sign up here.
Donald Trump talks down the dollar, North Korea readies for a nuclear test, and earnings season kicks off for U.S. banks. Here are some of the things people in markets are talking about today.
Verbal intervention
In an interview with the Wall Street Journal, President Donald Trump said the dollar is "getting too strong" -- comments which saw the greenback lose ground, with Bloomberg's Dollar Spot Index falling below its 200-day moving average. In the same interview, the president hinted that he is open to keeping Janet Yellen at the helm of the Federal Reserve after her term expires next February. Treasury yields fell as he said he likes low interest rates. He also dropped his campaign promise to label China a currency manipulator.
Geopolitical tensions 
North Korea appears "primed and ready" to conduct a nuclear trial at its test site, according to a U.S. institute that monitors the situation. Japanese Prime Minister Shinzo Abe has warned that Kim Jong Un's regime may be capable of firing a missile loaded with sarin nerve gas toward Japan. There remains little support, however, among North Korea's Asian neighbors for a U.S.-led strike on the country. U.S. Secretary of State Rex Tillerson, speaking in Moscow, warned of the low level of trust between his country and Russia. 
Earnings
JPMorgan Chase & Co., Citigroup Inc. and Wells Fargo & Co. all report earnings this morning, with traders' focus likely to be on net interest margins, credit trends and trading revenue. Warren Buffett's Berkshire Hathaway Inc. cut its holding in Wells Fargo by over 7 million shares in order to put its ownership below the 10 percent threshold that the Federal Reserve said would limit Berkshire's ability to do business with the bank. 
Markets drop
Overnight, the MSCI AC Asia Pacific Index dropped 0.1 percent, while Japan's Topix index closed down 0.8 percent after Trump's comments on the dollar pushed the yen to its strongest level since November. In Europe, the Stoxx 600 Index was 0.5 percent lower at 5:43 a.m. Eastern Time, with banks leading the losses. U.S. stock futures also point to a drop at the open. 
Coming up...
At 8:30 a.m. today U.S. PPI Final Demand data is released, with numbers on weekly jobless claims due at the same time. An increase to 245,000 from last week's 234,000 is expected. While many markets are closed tomorrow, there are still some important releases to watch out for -- U.S. retail sales and inflation data are due. On Sunday there is also a referendum in Turkey, in which citizens will decide whether to hand more powers to President Recep Tayyip Erdogan. Investors are bracing for what promises to be a very close race. 
What we've been reading 
This is what's caught our eye over the last 24 hours.
Before it's here, it's on the Bloomberg Terminal.
LEARN MORE