business
Syria's Assad Says His Forces Not Dented by U.S. Strikes
By
U.S. not serious about a solution to Syria crisis, Assad says

Assad speaks to AFP in first comments about U.S. attacks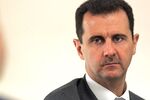 Syrian President Bashar al-Assad accused the U.S. of concocting reports of a gas attack on a rebel-held village last week to justify military strikes against his forces.
In his first public comments on the April 6 U.S. missile attacks, Assad told the Agence France-Presse news agency in Damascus that neither his troops, nor his government's "firepower" has been affected.
"Our impression is that the West, principally the U.S., is colluding with terrorists, and that it made up this whole story to serve as the pretext for an attack," Assad said in the interview released Thursday. It's "100 percent fabrication," he added.
President Donald Trump ordered the strikes on a Syrian airbase in response to the April 4 attack on Khan Sheikhoun that killed more than 80 people, including children. U.S. administration officials have said evidence clearly shows Assad's forces were behind the attack and that sarin gas was used. Syria and Russia have said the chemicals belonged to "terrorists."
Russia has vetoed a United Nations Security Council resolution demanding that Assad's government cooperate with a probe into the deadly toxic gas attack.
Assad said he would permit an investigation "only if it is impartial and we are assured that impartial countries will take part," and that it won't be used for political ends. He said he doesn't have have chemical weapons anymore, and that if he did, he wouldn't use them.
"The U.S. isn't serious in looking for any kind of a political solution," Assad said.
— With assistance by Angeline Benoit
Before it's here, it's on the Bloomberg Terminal.
LEARN MORE