Gold Rally Gets Feverish as Trader Survey Flashes Extreme Level
By and
Animal spirits starting to wake up, says O'Byrne of GoldCore

Credit Suisse Fear Barometer neared an all-time high this week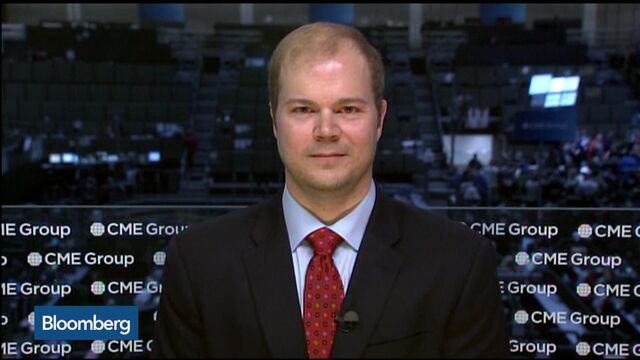 Gold investors are getting behind this rally.
Prices have climbed back to the highest level since November on growing worries about everything from North Korean nuclear tests to faster inflation and French election results. In 2017, bullion has risen about 12 percent.
In a Bloomberg survey this week, traders and analysts were the most positive on gold since December 2015. Another bullish sign, prices have climbed above the 200-day moving average and Britain's Royal Mint said bullion purchases jumped 20 percent in the first quarter.

"The animal spirits were asleep, but they're waking up again," Mark O'Byrne, a director at broker GoldCore Ltd. in Dublin, said by phone. "We have all these latent threats that have been around for a while, Trump, European elections, Brexit, and they're all just becoming a little more acute."
Gold futures for June delivery rose 0.8 percent to settle at $1,288.50 an ounce as of 1:43 p.m. on the Comex in New York. O'Byrne predicted prices could run to $1,400 an ounce by the end of the year.
The latest leg-up came after U.S. President Donald Trump declared a preference for a weaker dollar and France's right-wing candidate Marine Le Pen led in polls before the first round of presidential elections.
The Credit Suisse Fear Barometer neared an all-time high this week, a warning sign as the list of economic and political concerns grows. The index measures the cost of buying protection against declines in the S&P 500 Index.
In the Bloomberg weekly survey, 14 respondents reported a bullish view, compared with one bear and two neutral.
In other precious metals:
Silver futures for May delivery rose 1.1 percent to $18.51 an ounce.
Platinum futures for July delivery gained 1 percent to $977.40 an ounce on the New York Mercantile Exchange.
Palladium futures for June delivery lost 0.1 percent to $795.90 an ounce.
— With assistance by Susanne Barton
Before it's here, it's on the Bloomberg Terminal.
LEARN MORE