markets
Emergence of New Extreme Spooks Markets: French Election Monitor
By
Macron trailing nationalist Le Pen as leftist Melenchon surges

Polls spark highest French bond yields vs Germany since 2012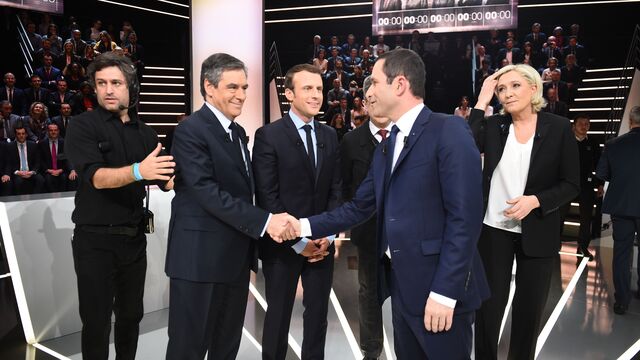 The prospect of a four-way French election rattled markets after odds for centrist Emmanuel Macron flat-lined and those of far-left candidate Jean-Luc Melenchon surged.
With nationalist Marine Le Pen in pole position to win the first round, the emergence of Communist-backed Melenchon -- who wants to spend 100 billion euros ($106 billion) to revive France's economy -- ignited fears about extremist politics. Bill Blain, a strategist at Mint Partners in London, said it could come down to a "choice between unreconstructed communism and unrestrained fascism."
Here's a look at what markets indicators show:

The premium that France pays over Germany to borrow for two years rose to 55 basis points, the biggest gap in five years. The Ifop daily poll April 12 had Melenchon at 18.5 percent, up from 10.5 percent on March 17. Early voting indications by OpinionWay and Ifop show Le Pen leading the first-round of voting, with a one percentage point advantage over Macron. The polls show embattled Republican Francois Fillon closing in on the front-runners. Whether or not Le Pen prevails in the first round, she's seen losing the run-off.

Derivatives traders assign a 38 basis-point premium to the risk of a French bond default compared with 27 basis points at the end of March.

The developments upset serene European credit markets as derivatives tracking high-yield bonds and investment-grade banks diverged. But European Central Bank bond purchases cushioned the impact, with the barometer below post-Brexit levels.

Negative sentiment about the euro has now eclipsed that around the Brexit referendum and the Greece crisis. The cost of one-month options to buy the common currency against the yen touched an eight-year low, relative to contracts for selling.

April futures betting on Euro Stoxx 50 volatility remained elevated relative to those expiring in May, projecting expectations price swings will calm after the vote has been decided.
— With assistance by Cecile Vannucci, and Gregory Viscusi
Before it's here, it's on the Bloomberg Terminal.
LEARN MORE