CIA Director Blasts WikiLeaks as 'Hostile Intelligence Service'
By
Pompeo delivers first public remarks since taking CIA post

Denunciation follows Trump's praise of leaks during campaign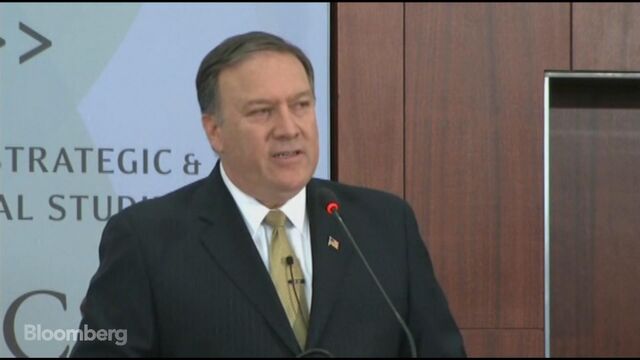 CIA Director Mike Pompeo blasted WikiLeaks, singling out the group's founder Julian Assange as leader of a hostile force that threatens the U.S.
"It is time to call out WikiLeaks for what it really is -- a non-state hostile intelligence service" often aided by nations such as Russia, Pompeo said Thursday in his first public speech since becoming head of the Central Intelligence Agency. "WikiLeaks walks like a hostile intelligence service and talks like a hostile intelligence service."
The group has encouraged followers to pursue jobs at the CIA in order to pilfer intelligence, Pompeo told the audience at the Center for Strategic and International Studies in Washington. He denounced Assange, who calls himself a champion of transparency in government, as a "narcissist" and a "fraud -- a coward hiding behind a screen."
WikiLeaks played a central role in the 2016 presidential race when it published emails stolen through hacking the Democratic National Committee and later from John Podesta, chairman of Hillary Clinton's campaign. U.S. intelligence agencies have concluded Russia was behind the hacking in an effort to interfere with the U.S. political process, damage Clinton's campaign and ultimately help Republican Donald Trump win the White House.
Russia's role remains the subject of multiple investigations by congressional intelligence committees and the FBI, which has said it's looking into whether any associates of Trump had contact or colluded with Russian government operatives.
Trump's WikiLeaks Praise
During his presidential campaign, Trump repeatedly cited WikiLeaks' release of stolen emails. At a campaign rally in October in Pennsylvania he praised the releases and said, "I love WikiLeaks."
At Pompeo's nomination hearing, the former Republican House member was questioned by Maine Senator Angus King who said Pompeo wrote a tweet in July 2016 citing the WikiLeaks releases as proof that the Democratic Party machinery rigged the primary process to help Clinton beat her challenger, Senator Bernie Sanders. King said Pompeo's tweet asked, "Need further proof that the fix was in from President Obama on down?"
In response, Pompeo said of WikiLeaks that "I never viewed it as a credible source of information for the United States or for anyone else."
The CIA director said Thursday that he couldn't go into detail but steps are being taken to counter insider threats, such as the 2013 disclosures by National Security Agency contractor Edward Snowden, and the "unprecedented challenge" posed by what he called hostile non-state intelligence agencies
"We have to recognize that we can no longer allow Assange and his colleagues the latitude to use free-speech values against us," Pompeo said.
Asssange has denied that he was given the leaked documents by Russia, although he has refused to say where he got them.
— With assistance by Chris Strohm
Before it's here, it's on the Bloomberg Terminal.
LEARN MORE